Do you love to travel but hate the months of preparation beforehand? If so, we've got you covered. This is the only travel planning guide you'll ever need! Bear these suggestions in mind, and you can enjoy the fun of traveling without any of the hassle.
Planning your trip
If you love taking vacations, the planning stage should be exciting, not stressful. This is the bit where you get to choose where you go, and you receive those all-important confirmation emails. The fact that there's a lot to organize, and multiple people to please can make life more difficult. If you've been tasked with arranging the next family vacation, these tips will help.
Choosing the perfect location
Before you book flights or search for hotels, ask people for ideas and work out a budget. Your budget should include the total package. It's worth noting that you'll often spend more on room only packages than you would on an all-inclusive break. Take spending money into account rather than the basic cost of the holiday. Once you've got a shortlist, you can start looking at flight and package prices and special offers. Some places may not be affordable, but if you come across several viable contenders, compare the pros and cons. Once you've highlighted the case for each destination, take a vote. Once you've got the destination pinned down, you can shop around for the best deals. Look for flight sales and compare prices of hotels online. If you're booking a family holiday, it often works out cheaper to go for a package deal that includes everything.
Once you've booked your vacation, you can start researching the local area to see what you want to do and where you want to go. If you're interested in traveling around, investigate car hire prices online. You can often save a lot of money by reserving a car in advance. If you want to book excursions, again, it's worth doing your homework before you jet off. If there are several different tour operators offering the same trip, read some user reviews.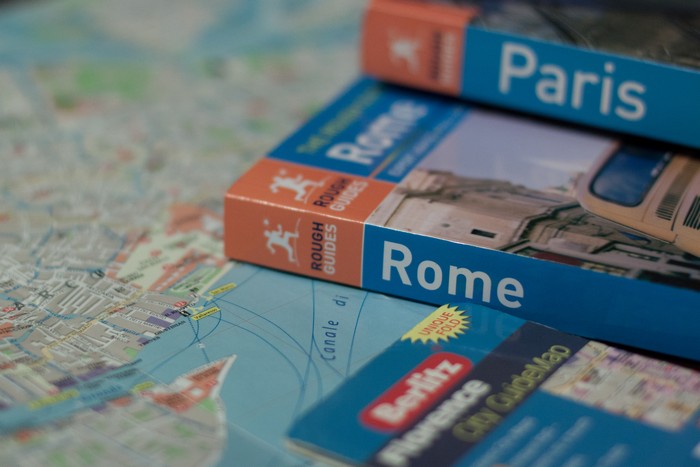 Insurance and documentation
Always make sure your passports are valid before you book a trip. Once you've selected a destination, it's worth checking whether or not you need additional papers, such as a visa. Before you go, you should also ensure that you have travel insurance. You can buy travel insurance online in a matter of minutes. If you travel without insurance, you run the risk of paying out for medical care. Insurance also covers lost luggage, flight cancellations and theft.
Packing tips
Packing is arguably the worst part of going away, especially if you've got kids. However, there are ways of making it easier. Try and get organized early. Get the cases down, and pack anything you want to take that you won't need before you travel. Wash and iron any clothing you want the week before. Write a list of anything you need to buy, such as adapters or headphones. Go shopping a few days before so that you can pack well in advance. Write lists for each case so that you don't forget anything. Set aside hand luggage bags, and make sure you have everything you'll need at the airport and on the plane to hand. Example of things you may want to carry with you include your travel documents, games and books, snacks, a music player and any medication you may need. Check the luggage allowance before you start packing, and weigh your cases. If you take too much to the airport, you'll be charged extra. For more helpful packing tips, check out http://www.marieclaire.co.uk/news/fashion-news/holiday-packing-tips-our-guide-to-packing-like-a-pro-123710.
Final preparations
Before you go away, make sure that your home is safe and secure. Switch off electrical appliances, and adjust the heating or cooling systems. Empty houses may attract interest from thieves, so make sure you lock all the windows and doors, and hide valuables away from sight. If you don't have a burglar alarm, it's a good idea to invest in one. You can read reviews and get recommendations from the alarm-reviews.net website. It's a good idea to tell your neighbors that you'll be away for a while, and ask them to keep an eye on your property. If you don't have neighbors, you could ask a relative or friend to house sit for you.
If you don't want to park at the airport, book a taxi a few days before you're due to fly. It's important to give yourself enough time to get to the airport and get through check-in and security checks. In most cases, it's best to arrive between 2 and 3 hours before your departure time. Check your emails and voice mails the morning before to make sure there haven't been any changes to your flights. If online check-in is available, log on and go through the processes. You can then print your boarding passes, and this will save you time at the airport. If you don't have a transfer booked at the other end, do this before you travel. It's often cheaper to book a transfer than to flag down a cab at the airport.
Before you leave for the airport, check your packing lists once last time, and make sure everything is crossed off. Make sure you have passports, boarding passes, and essential items like phones and cameras.
Many of us love to travel, but the stress that comes with planning can take the shine off. With this guide, you can arrange holidays without the hassle. Next time you go away, follow these simple steps, and you'll be getting onto the plane and switching into vacation mode before you know it. Plan ahead, shop around, and get your packing and shopping sorted in advance. Make use of the Internet to make reservations, and get the best prices. Always travel with insurance, and make sure your passports are in date before you book anything. Ensure that your home is safe and secure before you leave. Lock up valuables, and set the alarm. Book transfers, and then check you've got everything you need to travel. Finally, board the plane, get comfortable and put your feet up. Have a wonderful break!