One of our family's go-to comfort foods is shepherd's pie. Whenever my hubby and I cook it, it's always a hit.
Recently though, I challenged myself to make this dish not only healthier but also easier to prepare. How did I do that?
Well, first, I decided to replace the meat with a plant-based alternative. I found meat-free giniling in the supermarket to replace the usual ground beef that we use.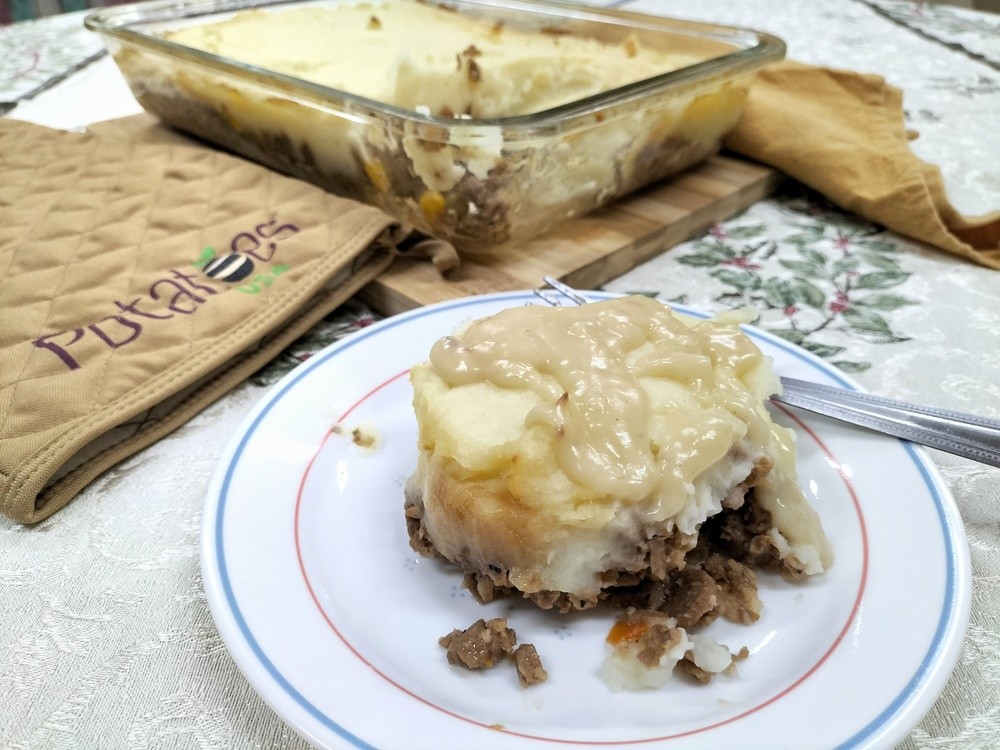 Our entire family loves potatoes, especially when mashed and when made with U.S. potatoes. That's what makes shepherd's pie our favorite. I mean, what's not to love about potatoes? Aside from being super versatile and tasting really good, they're also:
An excellent source of vitamin C (that's 30% of the daily value)
A good source of potassium (more than a banana!)
Contains dietary fiber (makes you feel full longer)
Fat-, sodium- and cholesterol-free (may reduce risk of heart disease)
Potatoes also provide us with complex carbohydrates – the primary fuel for the brain and a key source of energy for muscles. They help power our daily activities, sports, and workouts. We get all these benefits with only 110 calories per medium (148 g, skin on) serving!
However, making mashed potatoes can be time-consuming and labor-intensive. Good thing I discovered U.S. dehydrated potato flakes! I used this to make the mashed potatoes for this recipe and it made the process a lot easier and faster, too. No more washing, peeling, and cutting potatoes! Plus, the outcome is fluffier, tastier mashed potatoes. Yummy!
And if you're wondering if dehydrated potatoes retain the same nutrients as their fresh and frozen counterparts, the answer is yes! State-of-the-art technology is used to carefully select and process them, which helps ensure that much of the nutrient content is retained.
Personally, I'm never going to back to making mashed potatoes the old way again. I love U.S. dehydrated potato flakes!
Here's how I made my Meat-Free Shepherd's Pie.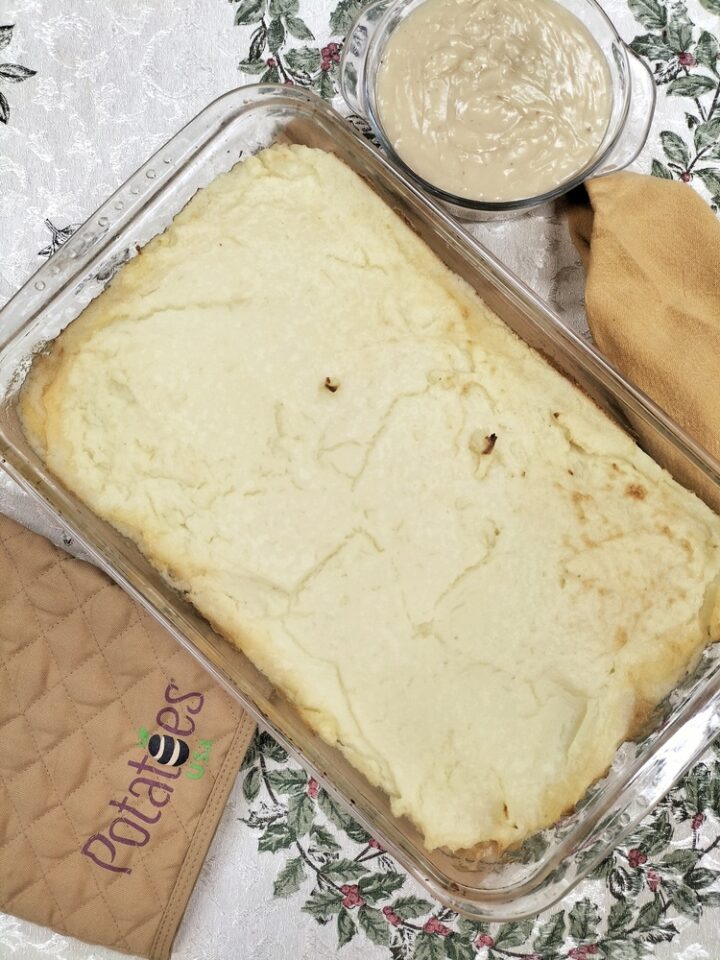 Ingredients:
For the shepherd's pie:
250 grams U.S. standard potato flakes
700 milliliters low-fat milk
200 grams unsalted butter
2 liters water
1 medium white onion, chopped
600 grams meat-free giniling
200 grams frozen mixed vegetables
2 tablespoons Worcestershire sauce
Salt and pepper to taste
For the gravy:
200 grams unsalted butter
3 tablespoons all-purpose flour
3 tablespoons oil
2 cups beef broth
Salt and pepper to taste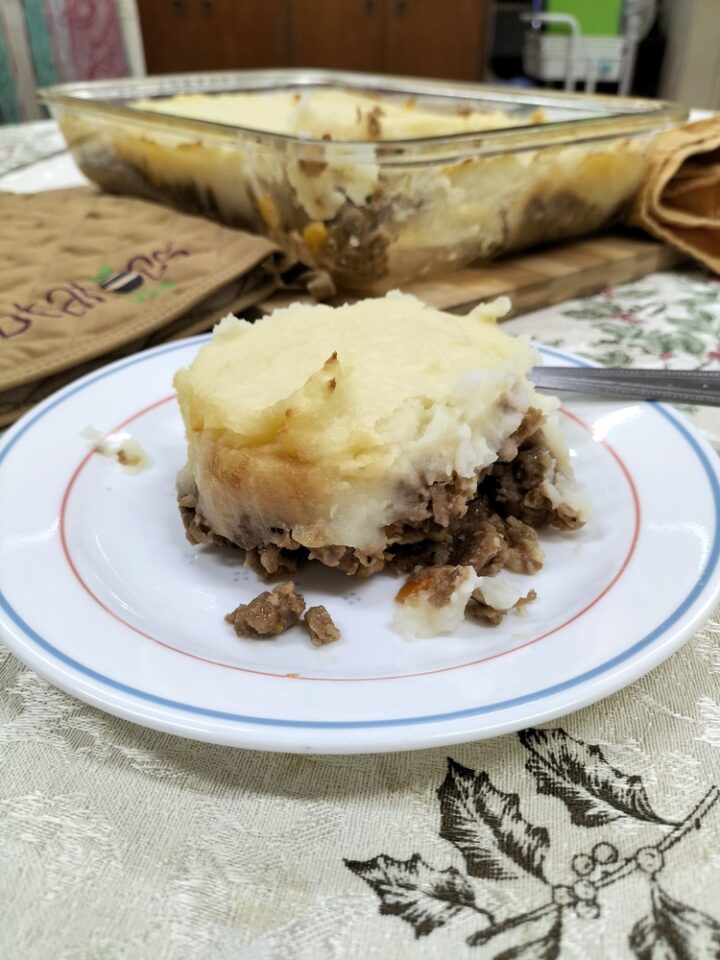 Preparation:
Preheat oven to 375F.
Prepare the meat-free filling.

Heat the oil in a pan.
Add in the meat-free giniling and cook for 5 minutes.
Stir in the mixed vegetables and cook for 5 minutes.
Add the Worcestershire sauce and stir until mixed completely.
Add salt and pepper to taste.
Remove the filling from heat and set it aside.

Prepare the mashed potatoes.

Combine water, salt, and butter in a saucepan.
Heat to a boil, remove from heat.
Add cold milk. Gently stir in the potato flakes. Do not whip.
More flakes can be used if a heavier texture is desired. Set aside.

Prepare the gravy.

Heat the oil in a saucepan over medium heat.
Add the butter to oil and let it melt.
Add flour and stir.
Slowly add the beef broth and stir.
Simmer until thickened.
Season with salt and pepper, to taste. Set aside.

Assemble the dish.

Place the meat-free filling into an oven-safe dish. 
Layer the mashed potatoes on top of the filling.
Bake the pie in the oven for 30 minutes or until the top is golden brown.
To serve, cut a piece of the pie and drizzle some gravy on top.
What's your favorite potato dish? Sound off by commenting below. There are so many dishes that we can make with potatoes!
U.S. potato products (fresh, frozen, and dehydrated) are available in supermarkets nationwide. For more info on Potatoes USA-Philippines, click on the following: