Like any modern kids, our kids are tech users too. I let our five-year-old Ziggy use my Ipad every now and then. He also has an old Android phone that he gets to use only for YouTube. We regulate his use of technology though to make sure that all the apps he uses are kid-friendly and as much as possible, educational.
We've also been using technology to teach Ziggy his homeschool lessons. I find it very effective because he's very kinesthetic so simply learning lessons from a book will not work. That's exactly why I was really excited when I first learned about a couple of weeks ago.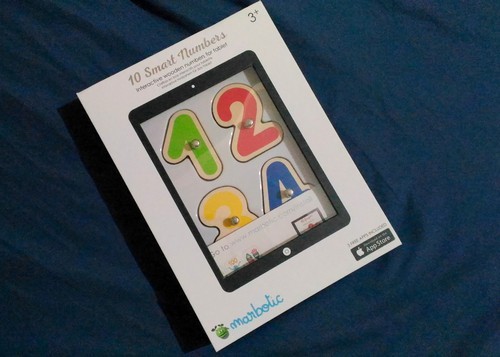 Launching for the first time in the Philippines, Marbotic – tech toys with a soul, was designed by teaching experts and developed in France. They have to kinds – Smart Letters and Smart Numbers, which bring the best of physical and digital play together to stimulate creativity and imagination. Beautifully crafted, Montessori-inspired wooden letters and numbers interact with iPad tablets and 3 free educational apps to help children learn to read and write as well as count and calculate. Simply stamp the wooden pieces on the tablet's screen, and let the magic happen!
We got our own box of Marbotic Smart Numbers a few days before Christmas and we had Ziggy try it out, of course. This is what you can find inside the box. There are interactive wooden numbers from 0 – 9 plus a small paper guide.
To be able to use these wooden numbers, you first have to download the accompanying apps. There are three apps that you can download via the App Store or through Google Play. These apps are free and easy to download although I discovered you can also upgrade to the premium version for a price.
Here are screen caps of the games/activities you can find in the apps. One app teaches kids how to count to 10.
There's also an activity that teaches kids to form or build numbers and …..
count up to 100.
The third app helps kids learn to calculate, specifically addition and subtraction.
To use the apps, your child just has to simply stamp the tablet screen with a number and it will appear on it already. Here's Ziggy playing with Smart Numbers.
What We Love About Marbotic Smart Numbers:
They're very easy to use. Apps are easy to download.
The free apps already include several activities, which is more than enough for us. But you can upgrade if you want more.
The apps are available for both Apple and Android devices.
The activities have difficulty levels which can cater to young kids of various ages.
It's a good tool to use to teach kids Math lessons. We especially find it useful because Ziggy is currently mastering simple addition and subtraction in his homeschool lessons. This makes learning Math fun for him. Learning addiction and subtraction is a lot easier because Marbotic made the process interactive, letting the kids actually see what it's like to add and subtract.
The wooden numbers are gentle to your screen so you don't need to worry that your tablet will get marks or scratches.
We really like this toy so much we wish to have the Marbotic Smart Letters too! I super love that moms like myself no longer have to feel guilty about letting our kids use technology. At least, not when they're using Marbotic.
Marbotic Smart Numbers costs Php 2,995. To learn more about Marbotic Smart Numbers, see their contact information below:
Website: kidoozi.com
E-mail: [email protected]
Mobile: +639178877959