Last April, I attended the first PlannerCon Manila in Eastwood City in Libis, Quezon City. It was a whole day event on a Saturday. Because we don't live near that area, hubby and I decided to check in somewhere there the day before so that I won't need to rush to the venue on Saturday morning. Also, he would have an easier time handling our two little boys on his own since I won't be wasting time traveling to and from the venue.
Instead of booking a hotel though, we decided to try an Airbnb staycation in Eastwood. We had never booked any rentals through Airbnb before so this was a new experience for us. There were so many options but we finally decided on a studio type condo unit at the Eastwood Le Grand Tower 3.
We chose this specific unit because it's walking distance to the convention venue, which was at the Eastwood Richmonde Hotel. Plus, the unit was just right for us (2 adults and 2 kids) and had the amenities we were looking for. There was also a lot of good reviews for the unit.
We were expecting to check in only for Friday night until Saturday but there was a minimum stay requirement of 2 nights, which actually worked great for us. The price of Php 2,500 a night was also not that bad. Although I checked the listing again recently and the price is now down to Php 1,684 a night only. I think we were charged higher then because we booked during the peak of summer season. The good thing though is that the owner doesn't charge a cleaning fee. The only additional cost was the service fee, which was less than Php 500.
Check in was fast and easy. We just had to register at the front desk then we were directed to the elevators. There were a lot of elevators so the wait to ride one never lasted more than a couple of minutes.
Check in to the unit itself was likewise easy. We were given the combination key to a lock box located by the door. Upon opening it, the key to the unit was inside. I love how very secure the system is.
Here's what the unit looked like.
There's only one queen size bed but there was also a sofa bed so 4 people can be accommodated in the unit.
Actually, I think if we brought our two teen daughters with us, we would still fit in there. The 3 oldest kids can fit in the sofa bed while the baby can share the bed with hubby and I.
The unit also had an aircon, a TV with Sky Cable and a WiFi connection. There was one cabinet as well with a few hangers inside.
Here's what the kitchen and dining area looked like. I like that there was a refrigerator, an electric kettle, a microwave and small stove.
There were also cookware, dining ware and utensils that you can use. The dining table was small though and only had two chairs but that wasn't really a problem for us.
Here's what the bathroom looked like. It had a shower with hot and cold water.
It had a toilet and a nice big sink. There were also a couple of towels available for use within the unit. The only thing I didn't like in the bathroom is that there was no bidet or water dipper, which made washing dirty kids a bit challenging.
The Eastwood Le Grand Tower 3 has several amenities, including a swimming pool, gym, indoor playroom and outdoor playground. We were only interested in swimming though. Here's what the pool looked like.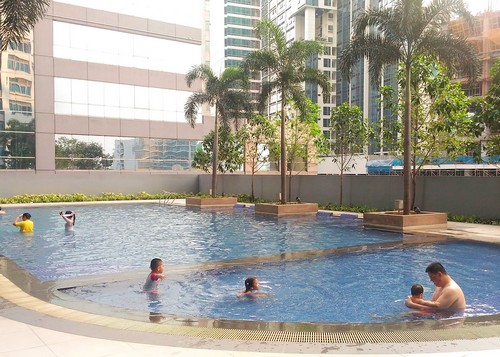 A small part of the pool is for the kids. Incidentally, this was our baby Zander's first swimming experience!
The bigger pool wasn't that deep. I think it was only up to 6 feet deep.
I love that the pool was kept clean at all times. We were able to swim on Friday afternoon and Sunday morning and loved it.
I also love that there were male and female wash rooms nearby with a couple of shower stalls.
At the same floor of the pool were the gym, as well as the indoor and outdoor playground. We weren't able to visit the gym and indoor playground though but here's a photo of the outdoor playground.
I should also mention that the unit we got had a great view of the pool and was away from direct sunlight so it was never hot when we were there.
The unit is owned by Jerry (check out the listing here). My hubby was the one who communicated with him. He had nothing negative to say about his experience in communicating with him. In fact, my hubby left a glowing review of this unit on Airbnb as you can see below.
Overall, we truly enjoyed our stay here. The unit was clean when we got there (trash was picked up twice a day!). We immediately felt at home. Everything in the unit worked nicely.
We really liked that we can go out of the building and there were already so many restaurants and convenience stores to choose from for when it was time to eat. The mall was also a stone's throw away.
The only downside to this rental is that it doesn't have it's own parking space. Hubby had to park at the mall and that cost about Php 300 a night, if I remember correctly.
Our first Airbnb staycation in Eastwood City was certainly one to remember. We definitely recommend this rental and look forward to booking it again next time.