I love decorative planner stickers as much as the next planner girl. However, there's a special place in my heart for functional planner stickers – you know, the headers, checklists, dots, flags, and what-not's. Unfortunately, there aren't a lot of local (Philippine-based) planner sticker suppliers that sell a lot of them. The only ones I see most of the time are those that come with the decorative kits.
Thankfully, last year I discovered Papers and Colors PH in Instagram and I instantly fell in love with all their functional planner stickers. I was really happy with all the stickers I purchased from the store then that I knew it wouldn't be the last. Well, the store recently came out with new releases and since I was running low on functional stickers, I decided to purchase some of them.
Here's what I got.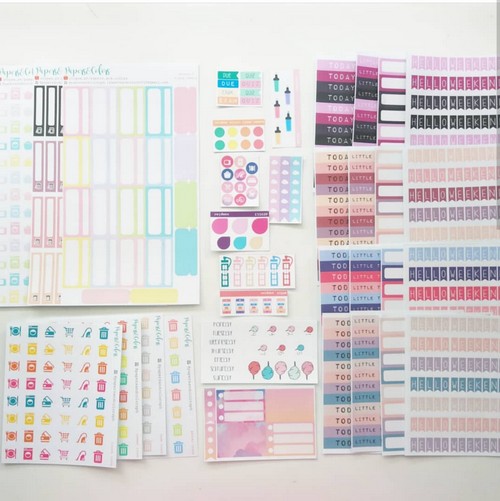 I got 23 sheets of functional stickers but the owner, Bridget (don't know if I spelled the name correctly, sorry!), gave me a lot of freebies. Those are the small ones you see on the entire middle row on the photo above.
Let's see the stickers up close, shall we?
Here are my favorites from this purchase. These are what's called the Peel Off Planner Sticker Essentials. They are available in sets of different colors – Orchid, Floral, Gray, Pastel, Onion, Escape, Galaxy, and Nude. Each set comes with the following stickers: Today, To Do, Bill Due, Heart Checklist, Quarter Boxes, Weekend Banner, and Quarter Boxes.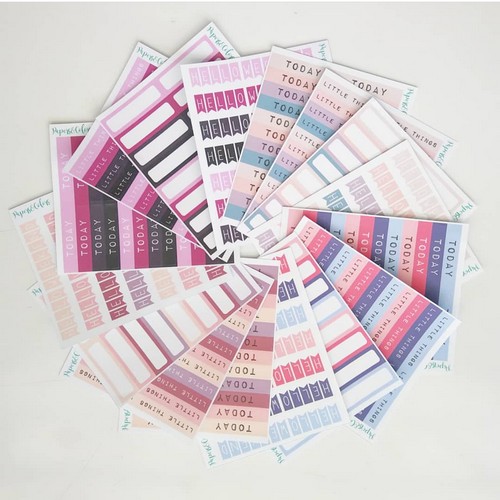 For my purchase though, I only chose the colors Orchid, Floral, Escape, and Galaxy and only the Today, Quarter Boxes, Little Things, and Weekend Banner stickers. I love how they are the perfect fit on the weekly insert that I'm using in my planner right now. I also love that although they come as a set, you are free to choose individual sheets as well.
Next up are these icon stickers. The big one is the Lala & Kiki icons while the smaller ones are Icon Peel Off stickers in the colors sunset, summer, nude and pastel. These are the types of stickers I use a lot on my planner. As  you can see, the stickers are all about household chores. Definitely the type of stickers planner moms like me need to have in their planners.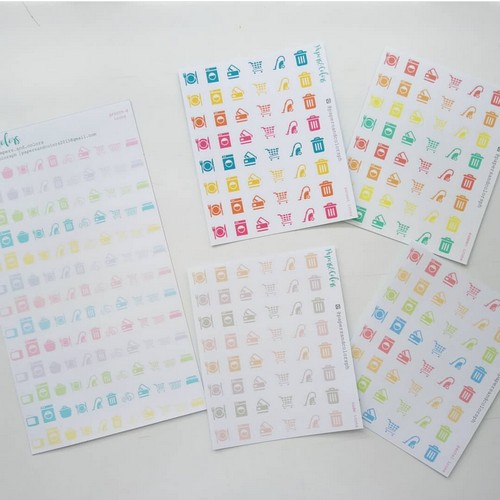 These last ones are the Lala & Kiki blank labels and Television Peel Off stickers.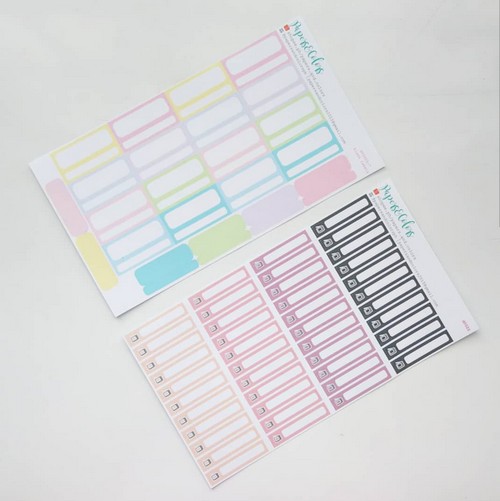 I super love all of these stickers because not only are they functional, they are pretty too! Coz who said functional planner stickers can't look nice as well? There's a wide range of colors, the sizes can fit in all sorts of planners, and they are super useful. I LOVE them!
Anyway, Papers and Colors PH released a lot more stickers and I definitely can't wait for my next purchase. If you wish to see them all, you can check them out on Shopee (papers.and.colors) and on Instagram.
Happy planning!