Many of you who visit this blog will know that I'm a homeschool mom and freelancer. Some of you might not be aware of who my clients are though and what I do for them. Well, I'm going to tell you about one of them right now.
Homeschool CEO
One of my clients is Jen Myers, who is the founder of Homeschool CEO. Homeschool CEO is a global community of homeschool moms who also run their own businesses. It doesn't matter what kind of business you have (you may have a physical store or you could be a service provider working online, etc). As long as you are a business owner who homeschools, you're welcome to join.
I joined Team Homeschool CEO back in February 2020 as a freelance writer. Two months later, I was asked to join them as a Virtual Assistant/Podcast Manager. Then, a few months after that, I became their Online Business Manager.
What I love about Homeschool CEO is the fact that everyone in the community understands the unique lifestyle that we have as business owners who homeschool. It's unlike the life of a homeschool mom who's a stay-at-home mom. It's also unlike the life of a regular working mom who doesn't homeschool and has kids in traditional school. We have so many unique experiences that only moms with the same lifestyle can understand. This means that sometimes, the usual homeschool or business advice we receive from people may not work for us.
The community has grown so much in just a year and a half, and I'm so proud to have been a part of the growth. We've done so many projects for the community already, including the upcoming Unboxed Summit.
Unboxed Summit – Business and Homeschool Life Your Way
Jen is launching the first-ever Unboxed Summit this coming week, October 18 – 22, 2021. It is a 5-day FREE virtual summit full of out-of-the-box strategies for entrepreneurs who homeschool.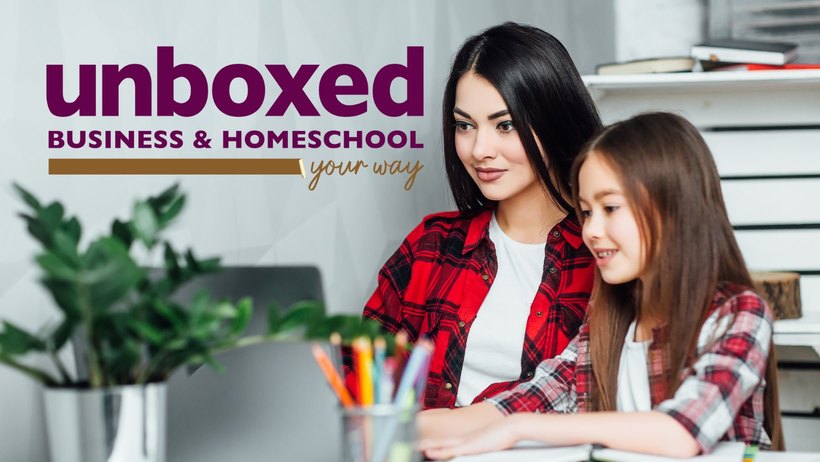 Unboxed is definitely not your traditional summit though. It is the first-ever summit that was created specifically for business owners who homeschool. You will learn from incredible women who have hundreds of years of combined experience blending both business and homeschool, helping you to discover new, unboxed ideas that will pave the way for the lifestyle that you're building for your family.
If you're a busy Homeschool CEO, you might think you don't have the time to attend yet another homeschool summit even if it's virtual, right?
But, wait! With the FREE access, you don't have to log in to the summit at specific times to watch the videos if you don't have the time. The deets (CliffNotes) will be emailed to your inbox each morning! But if you can also upgrade to the Next Level All-Access Pass ($47) if you want to get the recordings of the interviews plus a private podcast feed too! (Just so you know, I was in charge of this podcast with hubby as the editor!)
There is also a VIP All-Access Pass ($97) for the recordings and private podcast feed PLUS live calls, swag, and a month FREE in the Homeschool CEO Society (the membership) for more content, more community, and more support, but it is completely optional.
There's also a private Facebook group for the attendees where Jen will go live and host fun giveaways. You can meet other fellow Homeschool CEOs there!
So cool, right? Since I was the one in charge of the private podcast, I've already listened to the talks and I can tell you without a doubt that they are so helpful and full of ideas that you can implement in your own families.
Here's a peek at the schedule.
Day 1 (October 18, Monday): Beyond Traditional Thinking
Day 2 (October 19, Tuesday): Self Care That Actually Works
Day 3 (October 20, Wednesday): Beyond Chore Charts and Rigid Routines
Day 4 (October 21, Thursday): Beyond the 3 R's (non-traditional school for out-of-the-box thinkers
Day 5 (October 22, Friday): Beyond the Hustle
You can learn more about the topics as well as the amazing speakers by visiting the website at UnboxedSummit.com. You can register there as well.
Grab your FREE ticket to the Unboxed Summit now!