A few months ago, I shared with you how much our family loves using US Potatoes in our meals. I also shared with you 5 unique kid-friendly potato baon ideas. This time around, let me share with you a potato salad recipe that we recently tried called Curried Potato Salad.
Potato salad is so yummy and so easy to make. But did you know that there are so many ways to make it? I was scouring for unique potato salad recipes and saw several ones that used curry powder. I combined a few of them and came up with my own version.
US Potatoes
For this recipe, I used US potatoes because they stand out from the competition. Some of the reasons they stand out are:
Quality
US potatoes are grown in the most ideal environment- fertile soil, ideal growing seasons and temperatures, and plentiful amounts of water. Generations of experiene by the family farms also contribute to the special care they take with their crops.
Variety
There's a wide variety of US potatoes that you can use for all occasions, including breakfast, lunch, dinner, or snacks. US potato types are classified as russets, reds, whites, yellows, blue/purple, fingerling and petite.
Convenience
A lot of us are busy individuals, so if we can cut down on cooking time, why not, right? US potatoes have fresh, dehydrated and frozen varieties for you to choose from. The frozen and dehydrated potato varieties can be used right out of the package- dehydrated ones by simply rehydrating it with water or milk and frozen ones which you can just toss in the fryer or bake in the oven. As a busy mom, I find cooking with them a lot faster. I can save time for family or work instead.
Availability
US Potatoes are not hard to find. You can find them in leading supermarkets nationwide such as Rustan's, S&R, and SM.
Curried Potato Salad Recipe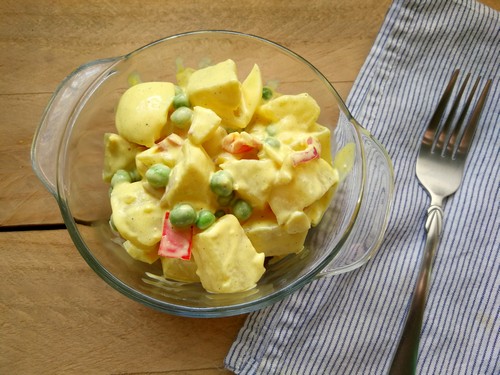 Ingredients:
2 1/2 pounds diced US Potatoes
4 pcs large eggs
2 cups mayonnaise
2 cups low fat, plain yogurt
1 small, onion, finely chopped
2 tablespoons Mustard
3 tablespoons Curry Powder
2 pcs small Red Bell Pepper, diced
1 small pack, frozen peas, thawed
Salt and Pepper, to taste
 Directions:
Boil the potatoes for a few minutes over medium heat in a large pot. Add a tablespoon of salt. Cook until potatoes are tender and drain. Set aside to cool.
Boil eggs in a small pan over medium-high heat. After boiling, let it stand for a few minutes, drain and place in a bowl with cold water. When cold, peel the eggs and cut into quarters.
Whisk the mayonnaise, yogurt, curry powder, salt and pepper in a bowl. Add the potatoes, eggs, onions, and peas. Stir to combine. Chill for a few hours until ready to serve.
The combined prep and cook time is roughly only 45 minutes. This makes 10 servings.
This is such a nice twist to the usual potato salad. I think this is how I'm going to make potato salad from now on.
To learn more about US Potatoes, visit their Facebook page or their website now.