Each year, I try to find more ways to be more intentional in our homeschool. So I thought, why not do something to be more intentional in celebrating Christmas, right? We want our kids to be reminded of what Christmas is really about aside from just giving and receiving gifts.
Like other families, we have our own Christmas traditions. However, this year I tried to start new traditions by incorporating them into our homeschool. Here's what we've done so far this Christmas season.
DIY Advent Wreath
I remember making my own advent wreath as a Christmas project in school when I was a kid. I thought it would be fun to help Ziggy do the same. Besides, he'll be having his First Communion already next year and I wanted him to be more familiar with Catholic traditions.
We made this advent wreath by reusing some random materials we found at home after I looked at some photos on Pinterest. We didn't spend a thing on this, except for our time and effort. We made it in time for the 1st Sunday of Advent. Ziggy, and even two-year-old Zander, enjoy the activity because it involves lighting and blowing out candles. But we say our advent prayers too, of course. That is the whole point, after all.
DIY Parol
For this project, I had the hubby assist Ziggy. He actually had some wood shaped into a star from last year's Christmas. It was supposed to be for his office but was never used. So we only had to buy some cellophane and other papers to wrap the star with.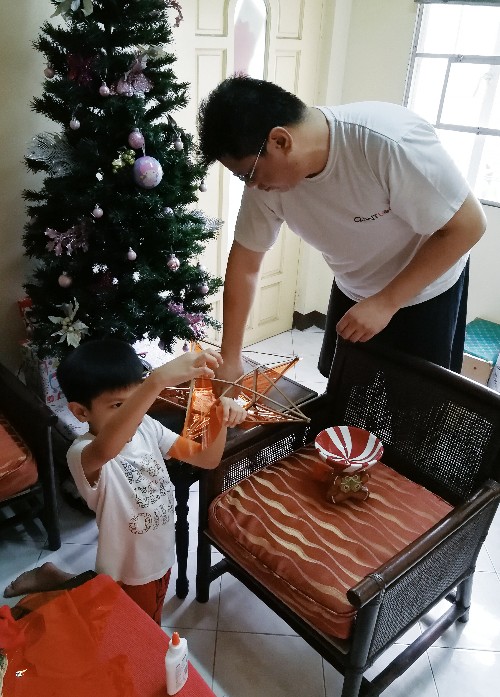 Too bad we weren't able to light it up. But that's okay because we weren't planning on putting it outside anyway. We just placed it behind our Christmas tree.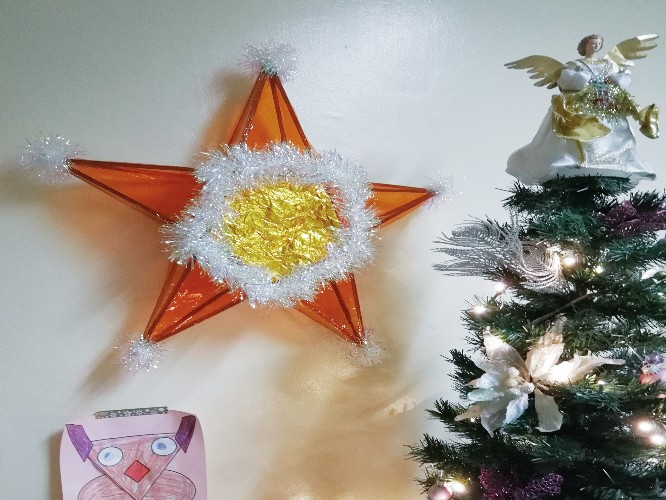 Christmas-themed Worksheets
While I usually follow the lessons in Ziggy's textbooks, every so often I also get lessons and worksheets from other sources. There are lots of Christmas-themed ones online. The ones I found were even free.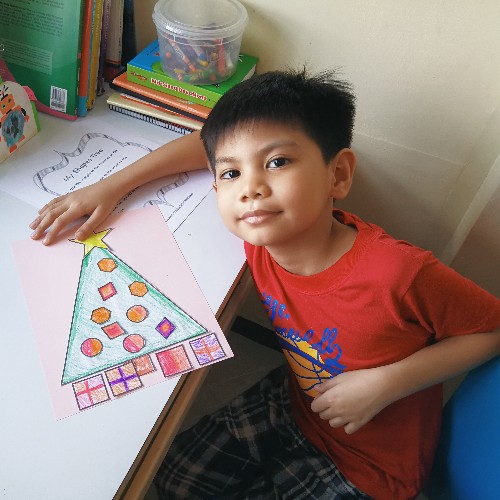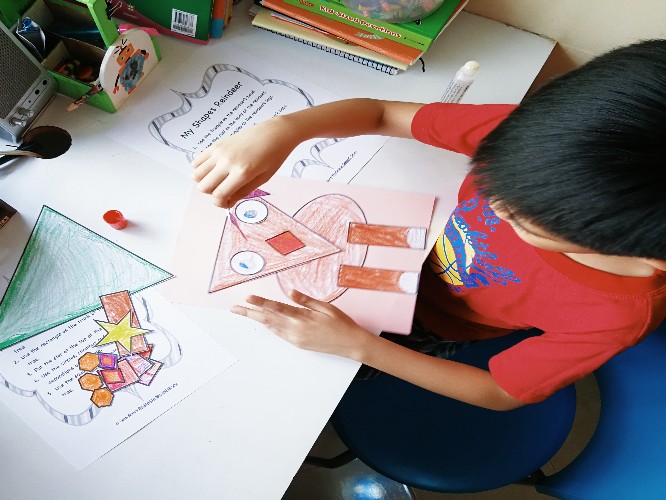 I got a Christmas activity sheet for Ziggy's math lesson on geometry. He had to cut out and color some shapes and combine them to make a Christmas tree and a reindeer.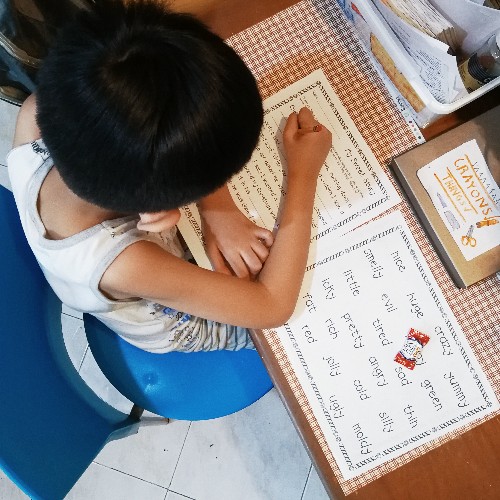 I also found one for his English lesson on adjectives. It involved completing a Christmas-themed story by throwing candy (ideally a candy cane) on a sheet full of adjectives. When the candy lands on an adjective, you're supposed to use it on one of the blanks in the story. It was actually such a fun and silly game and Ziggy really enjoyed it.
Christmas Stories and Carols
I was searching our collection of books to look for Christmas-themed ones and found this book called The Lion Book of Christmas Carols. It contains the story of Jesus' birth starting from the Angel Gabriel telling Mary that she was to be the mother of our Savior. Each Bible story has its corresponding carols.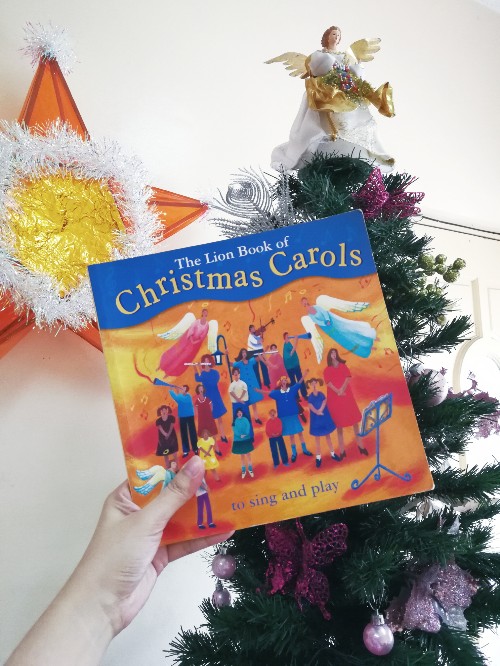 I started reading the stories to the boys a week before Christmas, one story each day. Then I found videos of the carols on YouTube so that we could sing them with music. We really love this activity because we are a music-loving family. I think reading the Bible stories also made Ziggy learn more about the origins of Christmas, making it more meaningful to him.
Visiting Christmas Light Shows
We make field trips a part of our homeschool as often as we can. For this quarter, we made visiting Christmas light shows a homeschool field trip too. We first visited Pixar Playtown in Bonifacio High Street. Too bad we didn't have our girls with us then.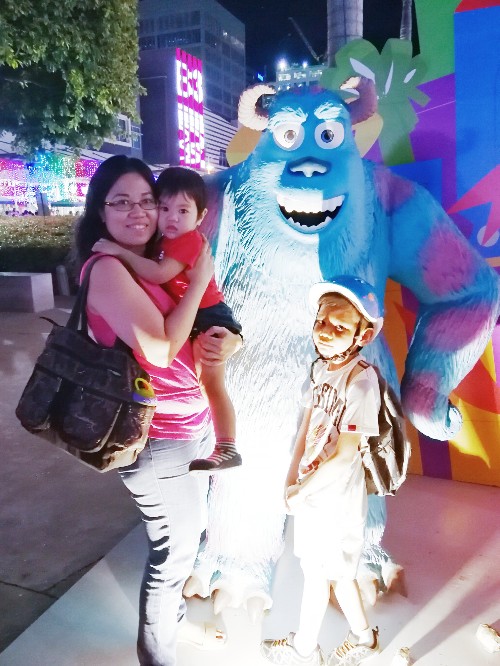 At least, Zoe and Ziya were finally able to join us when we went to the Ayala Triangle Gardens Lights and Sounds Show. We enjoyed this one more because of the Disney theme. Plus, the light show was grander and longer than the one at Bonifacio High Street.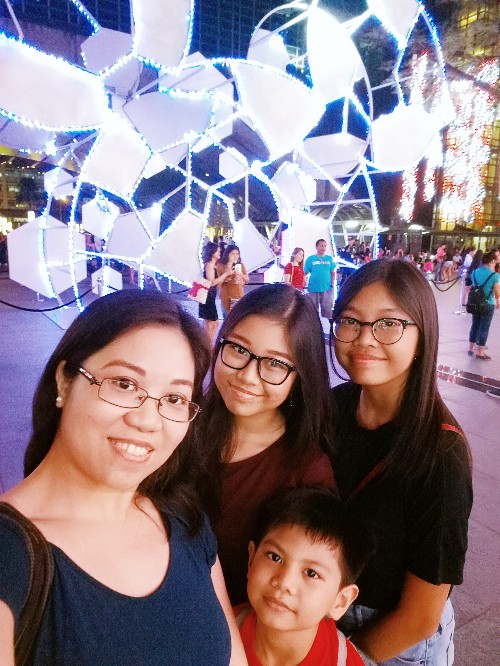 All these activities have really made our Christmas celebration more fun and most importantly, more meaningful. We're not done yet though. We've actually been decluttering our house lately and have already segregated a lot of items that we plan to donate. We'll be donating clothes and toys but haven't decided where yet. But for sure, we'll be including our kids in that activity too.
You don't have to homeschool though to do these activities. There's lots of things you can do as a family. Next year, I'm actually planning on doing an advent calendar activity too. How do you make Christmas more meaningful for your family? Do give me some ideas.
For now though, let us greet you all a Merry Christmas and a Prosperous New Year!!!!