If you've been following our homeschooling journey this year, you'd know that we are intentionally implementing a more interest-led type of learning for our kids. So before we started the school year, I asked my son, Ziggy, what he's interested in learning. Some of the things he mentioned were robotics, coding, and programming.
Those were definitely interesting topics but neither my hubby nor I were capable of teaching them, so I researched for schools that offered those services instead. That's how I discovered Manila Coding Camp.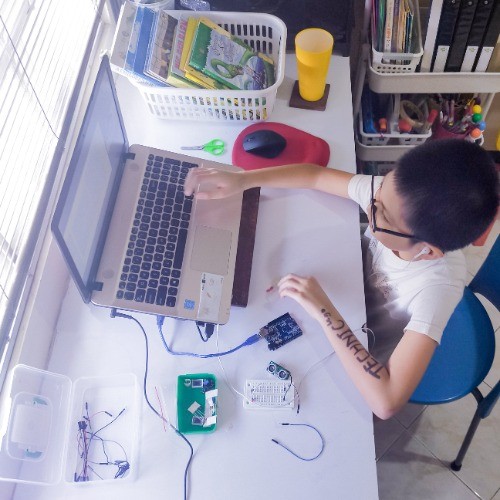 What is Manila Coding Camp?
Manila Coding Camp is a digital learning center that offers a variety of courses including:
Game Development
Programming
Robotics
Web Design
Mobile Application
App Development
and more!
They have courses for adults and kids alike, from beginner to professional. Best of all, you can learn them from the comfort of your own home. You can view their complete list of courses here.
A few months ago, Ziggy got to try their Robotics 1 course. It was supposed to be a group class but he ended up getting it solo that time and so he got one-on-one instruction.
In the 5-day class, he was able to learn a lot about the basics of coding using Arduino. He really enjoyed it and looked forward to each class, so I promised him I'd make sure he gets to take another class from Manila Coding Class before the school year ends.
Jr. Programming 1 Course
As promised, I was able to secure another class for Ziggy at Manila Coding Camp. This time though, he wanted to take the Jr. Programming 1 Course because he wants to eventually learn to create his own games.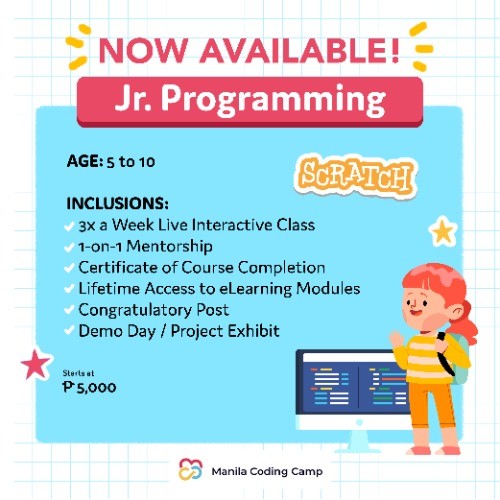 This camp provides an introduction to computer science using Scratch, a programming language developed by MIT. The course will allow students to develop logic skills, in preparation for more advanced programming languages.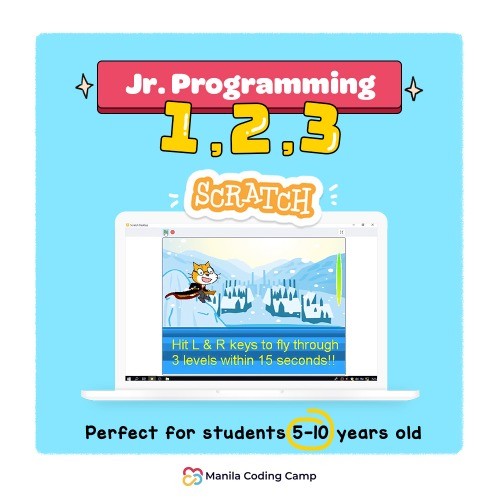 The Jr. Programming 1 course is meant for kids ages 5 – 10 years old, although they can also accept those who are a bit older. The course, which costs Php 5,000.00, will be for 3 days at 1 hour per day. The class that Ziggy will be joining will be on December 8, 10 and 12 (T, TH, S) from 4:00 – 5:00 pm. The thing is though, he doesn't have have other classmates yet.
The Giveaway!
Ziggy needs classmates to join him in the upcoming Jr. Programming 1 course and it could be your kid!
Manila Coding Camp has offered to sponsor a giveaway for my followers. They will be giving 2 kids access to the Jr. Programming 1 course, specifically to join Ziggy on next week's classes. Ain't that awesome?!
Here are the guidelines:
Your child must be 5 – 10 years old. They can accept up to 12-year-olds though.
Your child is interested in programming and game development.
Your child must be willing to join the Jr. Programming 1 class on these dates: December 8, 10, and 12, 2020 from 4:00 – 5:00 p.m.
You must be a Philippine resident with a valid Philippine address.
If your child doesn't qualify with the above guidelines, please don't join and give chance to others. 🙂
The giveaway will be hosted both here on my blog and on my IG account. I will choose one winner here and one winner from IG. The giveaway will run from December 2 – 4, 2020. The winners will be announced on December 5, 2020. You can join in both giveaways but can only win once.
Here's how to join:
Follow the instructions on the Rafflecopter below to earn yourself entries here on the blog.
To join on Instagram, go to my giveaway post and follow the instructions there.
That's it! Good luck to all of you and hope to see you in the class next week! 🙂