Wow! It has been a while since I last published a blog post. I've been so busy juggling mom life, homeschooling, and work life for the past several months that I've barely had any time left to do anything else.
I know a lot of you can relate because of what we now call the New Normal. Even if I've been living this lifestyle for the past 8 years, it can still be quite overwhelming at times. However, because we are moms and even if we are now busier than ever, we always make sure to spend quality time with our family whenever we can, right?
This year, I thought of another fun way to bond with my two youngest kids. I decided to integrate cooking into our homeschool. Cooking is a life skill that I think is important for them to learn, plus it's also an opportunity for us to spend quality time together.
One of our most recent homeschool cooking lessons involved learning how to cook hotdogs. My boys are only 9 and 4 years old so I wanted to teach them something easy. Thankfully, we had several packs of Mekeni Picnic Hotdogs at home that we were so excited to try. Instead of teaching them to cook hotdogs the usual way though, I decided to teach them how to cook Sauteed Hotdogs with Onions and Catsup.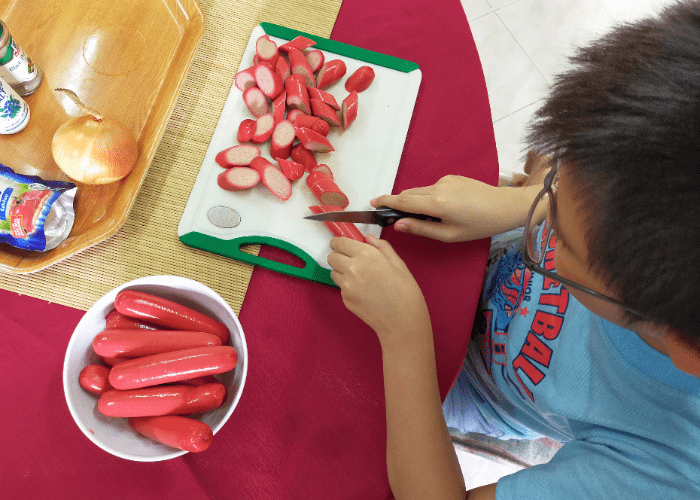 I had Ziggy do all the cutting of the hotdogs. I helped cut the onions. Little Zander helped put the ingredients in the pan one by one while Ziggy and I took turns sauteing. It was that easy! It didn't even take us 30 minutes, which is great because cooking shouldn't be complicated nor take too long.
Here's how it turned out. Looks yummy, right?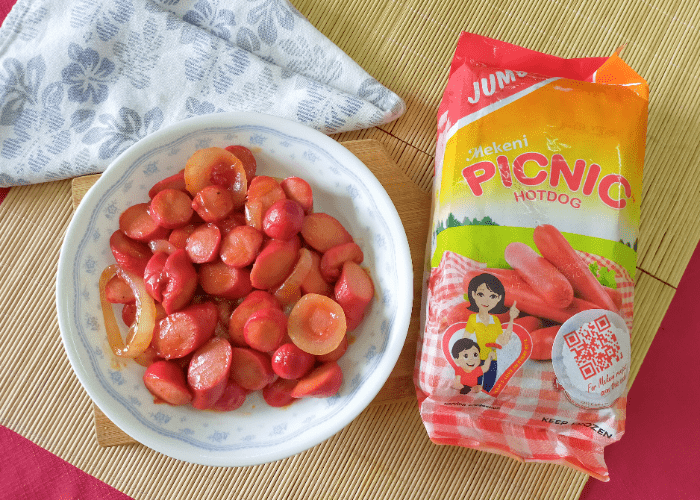 It didn't just look yummy though. Our entire family enjoyed it, which I'm really happy about. It was our first time to try Mekeni Picnic Hotdogs and now we get why it is known as Pampanga's favorite hotdog brand.
It truly has a strong meaty taste and aroma, which I think can be attributed to the fact that it's made of high quality ingredients. Every bite does come with a taste that both kids and adults can't resist. I think it's safe to say that we will be enjoying more of Mekeni Picnic Hotdogs from now on. It's definitely mom-approved. #MomsPickPicnic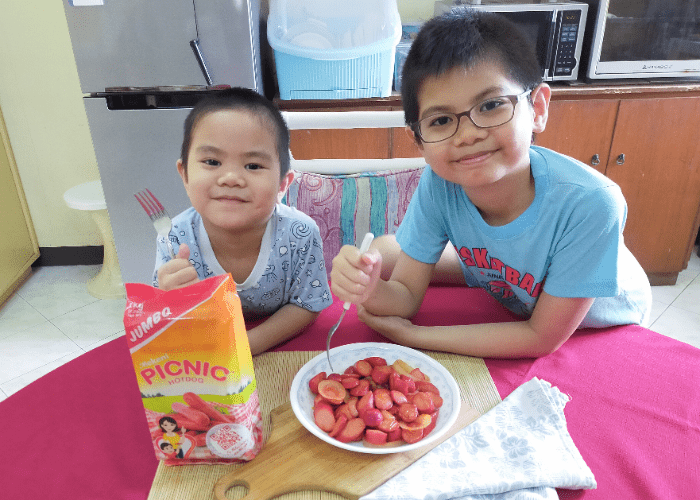 If your kids love cheesy hotdogs though, you can also try the Mekeni Picnic Cheezy Brown Hotdog. We've tried it and loved it too! Just like the red variant, this brown version is also meaty and tasty but is packed with loads of cheese. Certified crowd-pleaser, for sure!
Try Mekeni Picnic Hotdogs for yourself. You can get them in 250g, 500g, 1 kg, and 2.5kg packs from leading supermarkets, wet markets, online stores, and through Mekeni's Home2Home delivery.
Wanna learn more about why #PicnicIsMomApproved? Go visit Mekeni on Facebook!