We're now in the middle of July and for me, that means it's almost the end of summer and a new homeschool year is about to start. It's during this particular point in time that I usually start feeling some anxiety about starting a new school year, worrying about anything and everything homeschooling. Sound familiar?
If you're not homeschooling your kids but they are in some form of distance learning because of the pandemic, you might be experiencing some of these anxieties yourself. Don't worry, you're not alone.
While homeschooling and distance learning have their own share of challenges, we need to remember something – it's possible to actually thrive in these situations. Trust me, I would know because we're entering our eighth year of homeschooling and we still love it.
Every now and then though, I could use a little inspiration and I get that from fellow homeschool moms, those that I know and those that I watch on YouTube or listen to on podcasts and the conventions I attend. Speaking of conventions, there's one coming soon that I'm excited to attend and it's called #CHIPSThriveAtHome organized by the awesome team of ladies behind Educating for Life.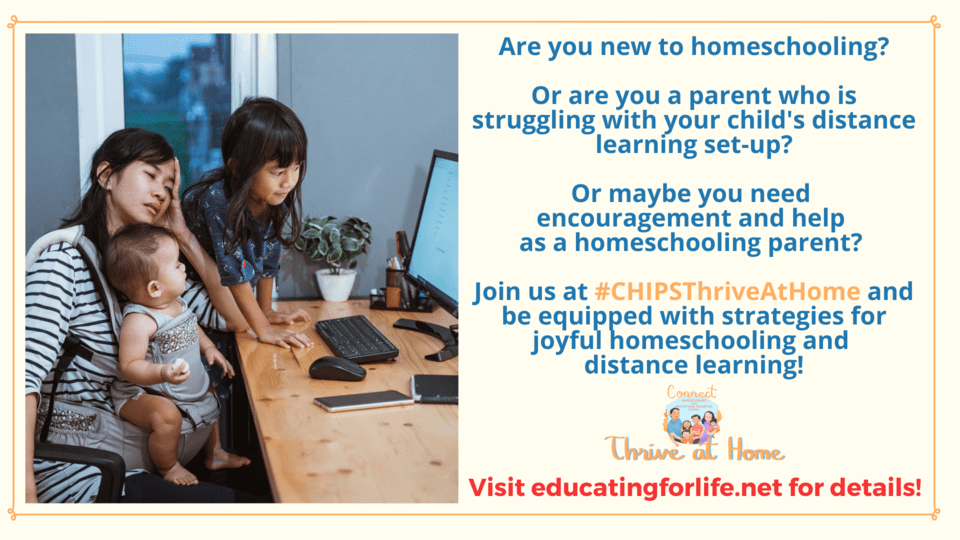 I've attended all but one of EFL's Philippine Homeschool Conventions for the past several years, back when in-person events were still allowed. Last year, I also attended their first ever online convention called Connect Homeschooling and Intentional Parenting Summit (CHIPS).
While I love in-person homeschool events, I truly enjoyed attending CHIPS last year because it allowed me to log in anytime and watch all the presentation videos I wanted. You get access to them for a whole month! I also really enjoyed the Online Expo and was able to explore them at my leisure during the convention.
The best part of CHIPS though were the talks. They truly helped remind me of why we homeschool. They also gave me the confidence I needed that year as we started a new homeschool path as indie homeschoolers. Because of these things, I have no doubt that you will also be able to receive a lot of golden nuggets of wisdom and inspiration in this year's #CHIPSThriveAtHome whether your kids are homeschooling or distance learning.
So, if you're interested here are the important information you need to know.
Event: #CHIPSThriveAtHome

When: July 30 – August 1, 2021
Where: Online via Accelevents Platform but participants will be able to access the event anytime and learn from all the Summit talks even after the event dates, up to August 31, 2021
What it is:
#CHIPSThriveAtHome is similar to EFL's CHIPS event last year, which was their big-scale online event created in response to the needs of families who suddenly had to face a year of strictly home-based learning due to the COVID-19 pandemic.
Driven by this same objective to help families, #CHIPSThriveatHome will feature bite-sized learning sessions for families who are already homeschooling, exploring or preparing for homeschooling, or struggling with the challenges of their kids learning at home via distance learning.
With talks focused on the sub-themes Thrive In Your Mind, Thrive in Learning, and Thrive in Family Relationships, EFL hopes to equip families with strategies for joyful homeschooling and distance learning. Through the specific parenting and family life topics of #CHIPSThriveAtHome, EFL hopes that more families will be able to cope—and even thrive—despite the pandemic.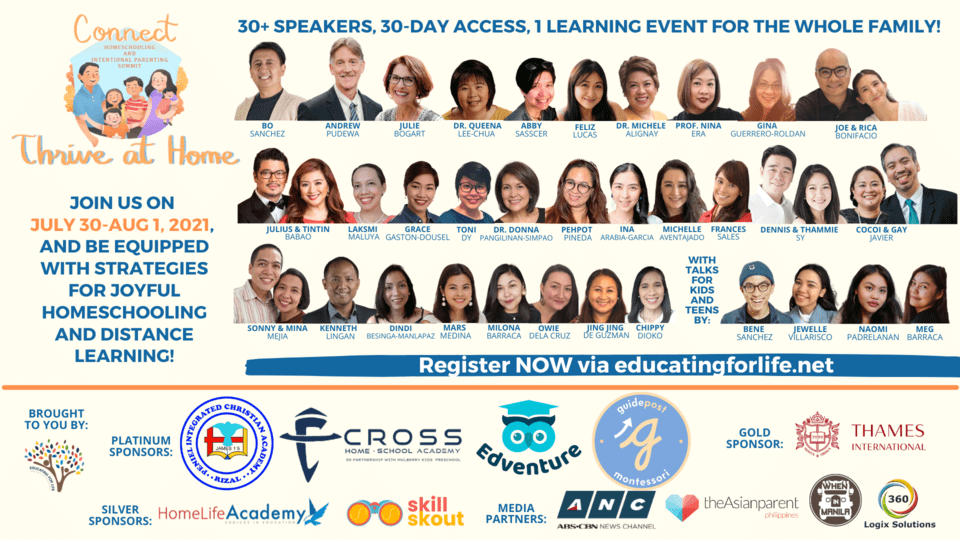 The Summit's line-up of speakers consists of both international and local speakers who will leave the participants inspired, encouraged, empowered, and equipped to start or continue their respective home-based learning journeys more than ever before. This applies to both homeschooling and distance learning families.
Some of the 30+ #CHIPSThriveAtHome topics include:
"Well-Being Matters: Supporting Parents'-Kids'-Teens' Mental Health" by Dr. Michele Alignay
"Lead Your Family to Thrive: The Importance of a Father's Presence" by Bo Sanchez
"Mother Culture: How to Thrive When You're With Your Kids 24/7" by Gina Guerrero-Roldan
"How to Thrive as a Solo Parent During Challenging Times" by Professor Nina Era
"How Homeschooling Helps Our Family's Relationships to Thrive" by Julius and Tintin Babao
"How to Help Your Kids Thrive in Distance Learning" by Dr. Queena Lee-Chua
"Survive and Thrive: Stories of Homeschooling COVID-19 Survivors" by Joe and Rica Bonifacio
"How to Keep Your Family Safe Online" by Kenneth Lingan
"What We Learned After a Year of Distance Learning" – A Panel Discussion by Ina Arabia-Garcia, Jing jing de Guzman, Michelle Aventajado, and Pehpot Pineda
"The Most Important Person in Your Homeschool is You" by Julie Bogart
There will also be sessions for kids and teens. All the #CHIPSThriveAtHome topics and speakers can be seen here.
Online Expo:
Besides learning from all the talks, #CHIPSThriveAtHome participants will also be able to visit the virtual expo within the Summit event platform. The expo will feature products and services that will help support families in their respective home-based learning journeys. Business owners and entrepreneurs that may be interested in joining the expo may sign up here or contact Michelle Padrelanan via [email protected].
Who should attend the event?
#CHIPSThriveAtHome is open to everyone who wishes to learn strategies for joyful homeschooling and distance learning. This includes parents, students (kids and teens), educators, and other people who see the importance of thriving in your mind, thriving in learning, and thriving in family relationships.
Registration Process and Fees:
Registration is currently ongoing at www.educatingforlife.net
Early Bird Family Learning Fee: P1500
Deadline of payment to avail the early bird rate is 11.59pm July 23, 2021
Regular Family Learning Fee: P2000
Effective July 24, 2021
SPECIAL EARLY BIRD OFFER!
Right now until July 15, 2021, EFL is running a SPECIAL EARLY BIRD OFFER! Participants who will register AND pay the family learning fee of P1500 by 11.59pm on July 15 get FREE access to exclusive bonus talks worth P13,0000+++, including:
A live webinar on "Grit and Resilience: The Most Important Things Parents Can Do to Help the Pandemic Generation Thrive," to be given by Dr. Queena Lee-Chua, one of the most sought-after speakers on parenting, education, and mental health in the country.
A "He Says, She Says" type talk on "How to Handle Family Finances During the Pandemic," to be given by Charlie and Paula Fernandez. Charlie is a financial advisor and Paula is a child advocate who shares her husband's passion for helping families be financially literate.
#CHIPSThriveAtHome would not be possible without the support of their sponsors and partners: Peniel Integrated Christian Academy of Rizal (Platinum Sponsor) and HomeLife Academy (Silver Sponsor).
Their Media Partners include ANC 24/7, The Asian Parent Philippines, and WhenInManila.com.