Sharing great news from our friends at Zoomanity Group! If traveling is on your agenda, read up.
********************
We are all inviting you to join us at Asia Digital Marketing Expo 2017 which is on its 3rd year now and presenting TRAVELOOZA. For this year, again, Zoomanity Group joins this historical event.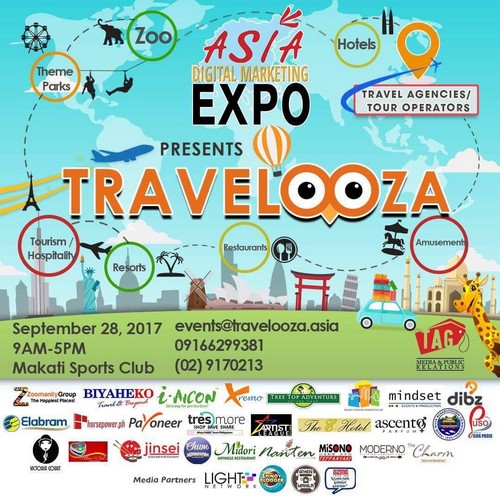 It's a convergence of travel operators, agencies,theme parks, resorts, hotels and restaurants. There will be exhibitors and talks. Bring also your business permit to be accredited.
Date: ‪September 28, 2017‬
Venue: Makati Sports Club
Time: ‪9Am-5PM‬
Ticket Cost: Php 1000 (That includes flowing coffee, Buffet Lunch, Activities, Certificate of Attendance, Tokens, Eligibility for Raffle Prizes)
For sponsorship. Please send your inquiries directly to [email protected]. Please deposit your registration to BPI Checking ‪1680 0010 29‬, Tag Media and Public Relations Account.
Zoomanity Group is composed of different theme parks and Restaurants in the Philippines like Zoobic Safari, Zoocobia, Zoocolate Thrills, Paradizoo, Residence Inn, Misono Japanese Restaurant, Jinsei, Nanten, Midori and Yakitori Daitokyo.
Zoomanity group is the leading company in theme park industry under the Yupangco Group of Companies. Envisioning world class, innovative and enjoyable facilities from Northern to Southern Philippines by providing the best tourist destination and nature educational experiences with the facilities that is uniquely design to provide enjoyment to visitors of all ages.
For more information: www.zoomanity.com.ph and www.tagmedia.asia / 02 9170213 (Tag Media Office), 09166299381.