As a busy work-at-home mom with no household help, I rely on easy, quick yet healthy recipes that I can cook for myself and my family. Lately, I've been experimenting on cooking with US Potatoes (you've probably seen my cooking through my IG stories) and found that their products really do help make cooking a lot easier and faster.
US Potatoes are known for their maximum quality, consistency, and variety. They are carefully grown by family farms and follow strict guidelines set by the United States Department of Agriculture (USDA) and the United States Food and Drug Administration (FDA). I love cooking with these products knowing that they meet high industry standards and are so easy to cook with.
Oftentimes, I find myself struggling with juggling time for work, family and chores. I had to create a plan and a strategy so that I can do everything in my to-do list and still have time to cook a healthy meal for my family even if I'm having a hectic work week.
My 5-Day Meal Plan for Lunch (or Dinner)
Today, I'd like to share with you a 5-day meal plan for lunch (or dinner), using US Potatoes, that can help you get through a busy week.
Monday – Curried Potato Salad
Regular potato salad can get boring! Try it with curry instead. Also, you can make a big batch of this ahead of time and just store it in the ref. Then, when it's time to eat, just get some. It's such a time-saver. I blogged about this last week. Click here if you want to see the recipe.
Tuesday – Potato Pancakes
For your kids who love pancakes, this will be a sure hit (although it's great for us adults too!). It just involves making pancakes the usual way. The only thing different is that you need to add a mixture of grated potatoes and onions for a healthier and more filling version.
The ingredients include 5 lbs of grated US Potatoes, 1 grated onion, 3 pcs beaten eggs, 2 ½ cups dry pancake mix, 1 tablespoon vegetable oil, salt and pepper to taste. Combine the grated US Potatoes and grated onion in a colander and squeeze off excess liquid. Then, in a bowl, combine them with the eggs, pancake mix, salt and pepper. Heat the oil in a pan over medium high. Take a spoonful of the potato mixture and cook it like you would regular pancakes, for about 5 minutes on each side. That's it!
Wednesday – Potato and Bacon Skillet
If you also love breakfast food all day, then try this yummy dish. It includes bacon, potatoes, cheese and eggs – a combination everyone is sure to love. I cooked this a couple of weeks ago. See full recipe below.
Thursday – Cheese and Potato Bacon Rounds
Need a meal that you can just pop in your mouth? Try this recipe of mine inspired by my favorite baked potato halves from a popular pizza place. This involves just baking potato slices topped with bacon, cheese and green onions.
You'll need 5 pcs US Potatoes cut into ½ rounds, 6 slices of cooked bacon (crumbled), 1 cup grated cheddar cheese, ½ cup chopped green onions, ¼ cup melted butter and sour cream.
To make, preheat the oven to 200 degrees C. Brush each side of the sliced potatoes with butter and place them on an ungreased cookie sheet. Bake in the oven for 30 minutes, turning once, until lightly brown. When done, top the potatoes with bacon, cheese and green onions, then bake again until the cheese has melted. Serve with some sour cream. Easy peasy!
Friday – Waffle Cut Potato Nachos
Who doesn't love to snack on nachos? But it doesn't have to be just a snack. Add beef and swap the chips with potatoes to make this a healthier and more filling version.
These recipes only take 30 minutes to an hour to make. They are also good to eat on their own. No rice necessary!
Below, let me share with you how to cook in detail the Potato and Bacon Skillet and the Waffle Cut Potato Nachos.
Potato Bacon Skillet
Ingredients:
4 pcs. medium size US potatoes, cut into cubes
5 slices bacon
3 eggs, beaten
1/2 cup Cheddar Cheese, grated
1/4 cup spring onions, diced
Salt and pepper to taste
Directions:
Cook bacon on a pan until crispy. Reserve the bacon grease. Crumble bacon and set aside.
Cook the potatoes on the same pan with the bacon grease until soft. Season with salt and pepper.
When the potatoes are ready, sprinkle the bacon bits and pour the eggs over.
Top with the cheddar cheese and spring onions.
Cover the pan and cook until the cheese has melted.
Enjoy eating!
Waffle Cut Potato Nachos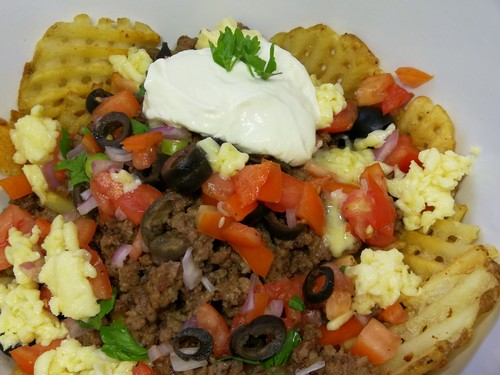 Ingredients:
1/2 kg US Potatoes waffle cut fries
1/2 kg ground beef
1/2 cup sour cream
1 cup Cheddar Cheese, grated
Pico de gallo
Salt and Pepper, to taste
For the pico de gallo:
6 pcs medium tomatoes, diced
1 pc medium onion, diced
¼ cup cilantro, chopped
1 pc lemon
1 cup sliced black olives
Salt and Pepper, to taste
Directions:
Fry the waffle cut fries on a pan with a little oil. Make sure to fry with just one layer of fries to make sure they are all cooked evenly. Drain excess oil and set aside in a large bowl.
Saute the ground beef on the same pan. Season with salt and pepper. When the ground beef is cooked, set aside.
While still frying the potatoes and ground beef, you can start preparing the pico de gallo. Combine the diced tomatoes, onions, cilantro and olives in a bowl. Squeeze the juice of one lemon on top. Season with salt and pepper. Mix and set aside.
Add the cooked ground beef on top of the cooked waffle cut fries. Add the pico de gallo. Sprinkle with the grated cheese and add a dallop of sour cream.
Enjoy eating!
I really love cooking with US Potatoes. Especially with the waffle cut fries, you don't even need to wash, peel or cut anymore. It's all ready to cook!
For more of my recipe ideas using US Potatoes, click here. For more info about US Potatoes, visit the Potatoes USA Philippines Facebook page.