Last month, I had to attend an event for Omron Healthcare in Bonifacio Global City. It was an event I helped my friend organize. Because we had several things going on in the area during the days surrounding the event, hubby and I decided to just go on a staycation there to make things easier for us. So, we looked for a condo that we can book via Airbnb and we found one at The Icon Plaza.
Icon Plaza is located at 25th street. It's the building right behind the area where they put up Mercato Centrale every Wednesday and Thursday nights. We liked the location because it was only a few blocks near the venue for Omron's event. Plus, it's also near Bonifacio High Street, Market Market and SM Aura. We booked a studio unit for a two-night stay. Here's what the condo unit looked like.
Admittedly, the interior design of the unit isn't really my style but the place had almost everything we wanted. First of all, it was big enough for me, hubby and our two little boys. Our two girls weren't able to join us because we booked on weekdays and they had school.
Since the unit was a studio, it didn't have a separate bedroom but it had a queen-size bed. The sleeping area can be separated though by the heavy drapes that the unit owner had installed. Our baby, Zander and I slept comfortably on the bed.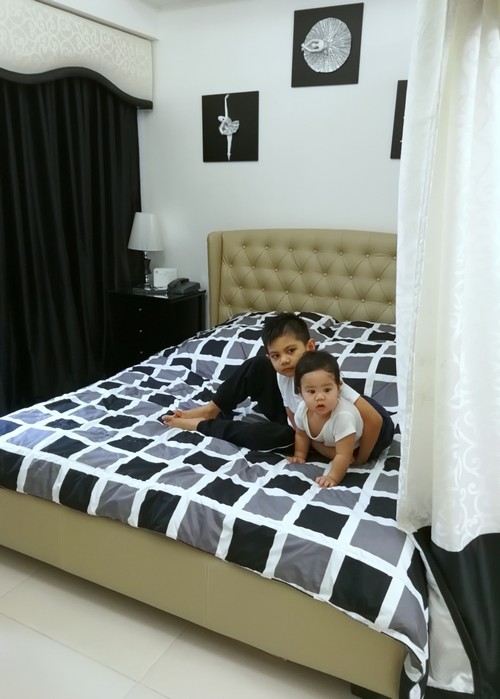 The unit also had a sofa bed and this is where Ziggy slept. Hubby didn't sleep with us on the two nights we were there because he still had to go to work.
The unit had brand new appliances including a TV. Unfortunately, the only cable service they had was an ABS-CBN TV Box, which I didn't really like because of the very limited channels. But fortunately, the owner had just installed a phone line and a strong WiFi connection. So, we just entertained ourselves with our phone and tablets when the TV shows were boring. Here's a view of the TV from the bed. The sleeping area also had a closet and a dresser.
The dining area had bar seating, which we didn't really use. When we ate we just used the sofa and the center table. It wasn't really a problem though. We just used the bar to place some of our bags.
I really liked that they provided a printed card with the house rules on it. It decreased the need for us to contact the owner when we had questions. There was also this pink bag which had extension cords and the like. There was a Bluetooth speaker as well but we weren't able to use it.
We didn't do any cooking while we were there but we did boil water for our coffee.
The kitchen had a microwave, stove and refrigerator, plus the basic cooking and eating utensils. A sponge and dishwashing liquid was also provided.
There was one bathroom and I really liked it because it had a water heater and a bidet. Some condo units don't have those so I really appreciated that this one did. Several towels, toilet paper as well as some toiletries were provided for our use.
The unit also had a laundry area with a washing machine but we didn't use it.
We were free to use the amenities at the llth floor. Here's the pool area. There were three pools, two of which were kiddie pools.
There was actually some construction at one side of the pool area. I don't know though if they're going to put on another pool there.
Here's the gym, which we were free to use but weren't able to try.
Here's the game room, which was closed when we went there in the morning.
On our first night there, we ordered from the nearby McDonald's through their app. But on the second night, we decided to go down to Mercato Centrale before hubby went to work. There were lots of different types of food available. Here's some of them.
I even got extra food that we could munch on late at night. These crablets were so yummy!
After dinner that second night, I was even able to take Ziggy and Zander to a Mommy & Sons date night at Bonifacio High Street, which was only a few blocks away.
Overall, we had a really nice stay in this condo unit. Here's a summary of what we love as well as what we think needs improvement.
What we love:
1. Location – It's near all the places we needed to go to. We especially love that Mercato Centrale is just right outside. There's also a 7-11, a Starbucks branch, and other restaurants at the building beside Icon Plaza.
2. Amenities – We love the pool area although the water was a bit cold that morning. All the pools were clean. Wish we were able to try the game room though.
3. Appliances – We love that the unit itself has almost complete and brand new appliances. It was also fully air-conditioned by the way.
4. Security – We love that the security in the building is strict. When we had McDonald's food delivered, they didn't allow the delivery guy to go up to us. We had to meet him at the lobby to get our food. It's a bit inconvenient but it just goes to show that they don't allow just anybody to have access to the the upper floors where the units are.
5. WiFi – The internet connection was fast and newly installed. It was not prepaid, which is what other Airbnb rentals have.
6. Communication – We hardly needed to communicate with the owner. But when we did, she responded immediately.
7. Cleanliness – The unit was spotless! Of course since this is an Airbnb rental, you have to keep the property clean. Although I've encountered other listings that also charge separately for home cleaning service.  The common areas in the building were also clean.
What needs improvement:
1. Parking – The unit doesn't come with a parking spot. Even the building itself doesn't provide pay parking. We had to park the car at the pay parking at the building beside Icon Plaza. The parking fee there doesn't come cheap either. They charge Php 50.00 for the first 2 hours, then Php 50.00 for every succeeding hour.
2. Cable – There was no cable installed. We hardly watch local channels so we didn't really appreciate the ABS-CBN TV Box they had.
That said, we do recommend this unit for a nice, quiet staycation. This is only our second time to book an Airbnb rental (the first was in Eastwood). Because we had another pleasant experience this time around, we won't hesitate to book again next time.
For more information about this rental, click here.