I'm already thinking of what to prepare for our New Year's Eve dinner. I thought of trying to make my own DIY cheese board for the first time. So I researched about what normally goes on a cheese board aside from just cheese. I discovered that I can include a pâté. Thankfully, I got several cans of UNI-PAK Mackerel that would be very good for that.
UNI-PAK Mackerel
I know that some of you might be more familiar with other mackerel brands in the market. But, hindi basta nakasanayan the best na yan.
UNI-PAK Mackerel is a brand owned by the SLORD DEVELOPMENT CORPORATION, a manufacturer of canned goods that has been in the business of import, export, retail, distribution, and manufacturing since April 15, 1985. UNI-PAK Mackerel products adhere to strict quality control standards, and are manufactured using only the freshest ingredients and up-to-date processing and packing facilities. Yan ang #TatakUnipak!
I love UNI-PAK Mackarel because aside from its great taste, mackerel is packed with omega-3 fatty acids and contain high amounts of proteins, making it healthy for the whole family. Kaya basta mackerel, dapat tatak UNI-PAK!
So, let me share with you how I used UNI-PAK Mackerel to create my pâté.
UNI-PAK Mackerel Pâté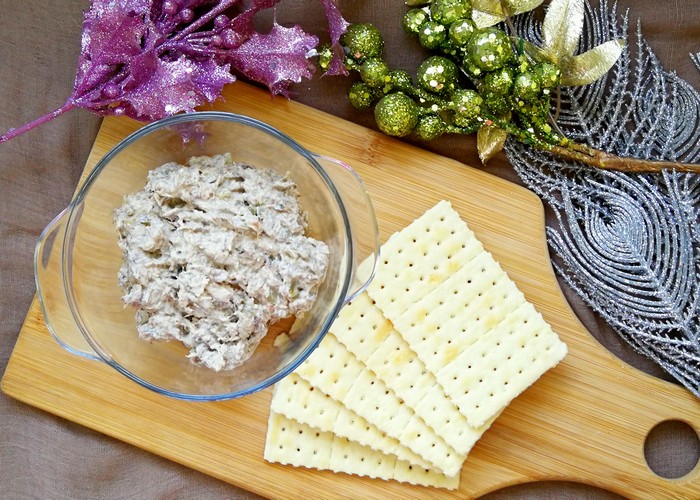 Ingredients:
1 small can UNI-PAK Mackerel
1 Tablespoon pickle relish
2 Tablespoons mayonnaise
Salt and pepper to taste
Cayenne pepper for spiciness
Directions:
Drain mackerel, remove bones and mash. Add pickle relish, mayonnaise and spices and mix.
It's so fast and easy to make. Best of all, it's so yummy too! Do try it out with crackers for a nice yummy snack. It will surely be a great addition to the cheese board I'm going to prepare for New Year's eve. Siguradong #PaknaPak!
For more information about UNI-PAK Mackerel, do like the UNI-PAK Facebook page.
Giveaway!
Now, because I want to share the love this Christmas season, I've partnered with UNI-PAK Mackarel to give away one (1) gift pack from UNI-PAK. Yay!
This giveaway will be open from December 21 – 27, 2017. The winner will be announced before the end of the month. This giveaway is open to everyone with a valid Philippine address. UNI-PAK will be responsible for delivering the prize to the winner.
To join, simply follow the Rafflecopter instructions below.
a Rafflecopter giveaway
Good luck guys!