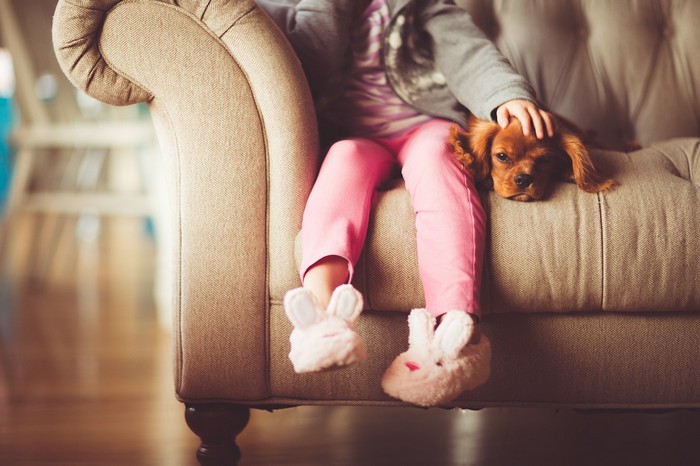 Everyone loves their furry little pals, but what most of us despise is their uncontrollable hair-fall problem. However, in this hairy situation, static electricity is to be blamed, not them. In case you feel these stray hair are taking a life of their own in your house, it's time you ditch the old school cleaning methods because believe us, they are destined to fail. From upholstery to furniture and flooring, here are top 5 hacks that will give you a hair-free house in seconds:
Rubber Gloves
Your sofas and your pet's hair share an unbreakable bond- you just can't get rid of those strays without practically losing your mind. The fine textured hair tends to seep in deep and as a result, no matter what you do, everything just falls apart. For furniture and fabrics, your best bet are your ordinary kitchen gloves. Why? Because rubber kills the static electricity. Gently rub on your sofas and you will see a ball of fur forming on your gloves. For even better and quicker results, you can try moistening the gloves and this magic spell will work.
Vacuum Cleaning
If you have pets around, throw your brooms away. Your best bet would be to vacuuming the floors, unless you wish to keep those stray hair moving around. However, make sure that these pesky strays are out sitting on the surface before vacuuming, otherwise you will be expected to exert way more energy. But in case this seems over-whelming, you can always invest in specialized vacuum cleaners. They usually call in for a one-time investment but will make your cleaning job so much easier, all while saving you the unnecessary hassle. Here are some good options if you're considering to buy one immediately: https://petallergyvacuum.guide/
Microfiber Cloth
What about those situations where you just immediately want to tidy up the place and don't have the time to bring out the vacuums and your cleaning-regime? For such quick touch ups, microfiber cloth will be your best friend. Whether its moping or cleaning, use microfiber cloths. Not only are they readily available, they also come in for a cheap price tag and do the job well.
Fabric Softeners
Now there are two things that these fabric softeners do- they make cleaning pet hair off from fabrics easier and they add in an instant fresh smell to the environment. What you need to do is mix some fabric softener (any brand of your choice) with water and spray it on areas where you see clumps of hair. Then with a microfiber cloth, a squeegee, lint roller or even by hand, grasp onto the strays and Voila! A clean, fresh space for you.
Consider Covering up Spaces
This might be a simple hack but you will understand its effect only once you adopt it. In case your pet's hair fall is on the extreme and you don't get that sort of time where you can get into the deep-clean mode, then you should consider covering your sofas, beds and ottomans with washable, light blankets. This way half your cleaning concerns will be gone and in case of emergency company, just take of those sheets and you will get a clean, hair-free sofas.
And while many more other hacks are there, don't forget to groom your pets. The right kind of shampoos can save you much of the cleaning hassle itself. Happy Cleaning!