I recently blogged about our family's experience in attending the Bambini Baby Cologne relaunch last Saturday, March 10, 2018 at Glorietta. If you haven't read it yet, do click the link to learn how much fun we had that time.
About Bambini Baby Cologne
In case you're not yet familiar about the brand and its products, you should know that it has been around for many years already. However, the makers of Bambini Baby Cologne, Cosmetique Asia, decided on doing a relaunch of the brand because they wanted to focus on the playful bond that kids share with their parents. With Bambini, they wanted to make these precious random moments more enjoyable while maintaining high quality standards and other requirements most parents are looking for — hypoallergenic and dermatologist tested.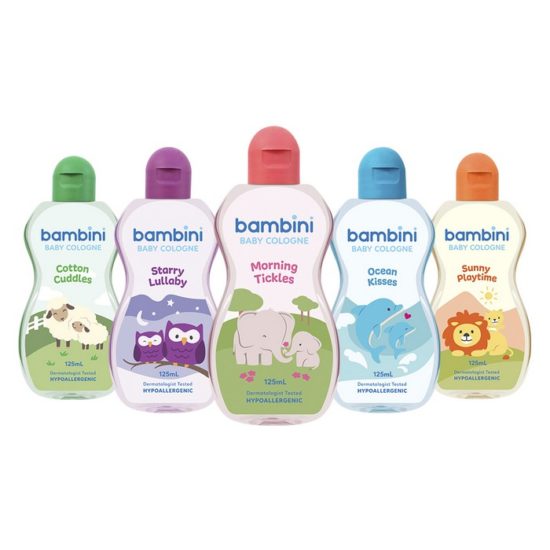 The new and improved Bambini Baby Cologne features five new scents that are inspired by mom-and-child bonding activities and fun elements of nature. There's the floral and sweet "Morning Tickles," the calming "Starry Lullaby," the clean and breezy "Ocean Kisses," the cottony fresh "Cotton Cuddles," and the citrusy and fun "Sunny Playtime."
These colognes are available in three sizes — 25ml, 50ml and 125ml — and packaged in an easy-to-go grip curvy bottle.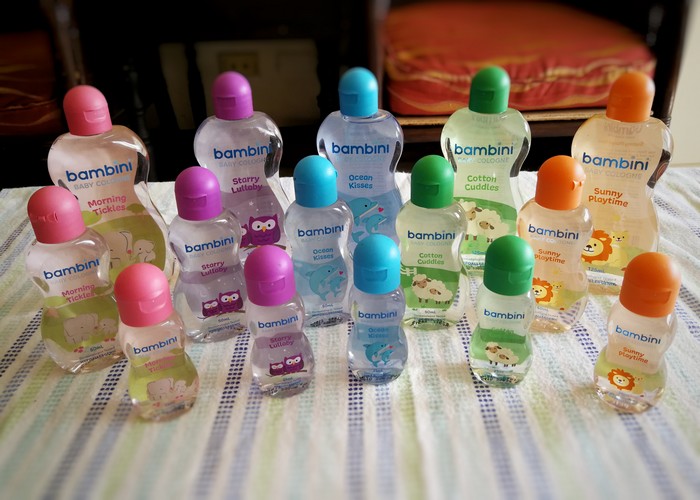 Our Review
Today, I'm here to share with you guys our thoughts on Bambini Baby Cologne after using it for about a week. I received several bottles of the various variants in the three different sizes a few days before the relaunch. I tried it on myself and my two little boys, Ziggy and Zander.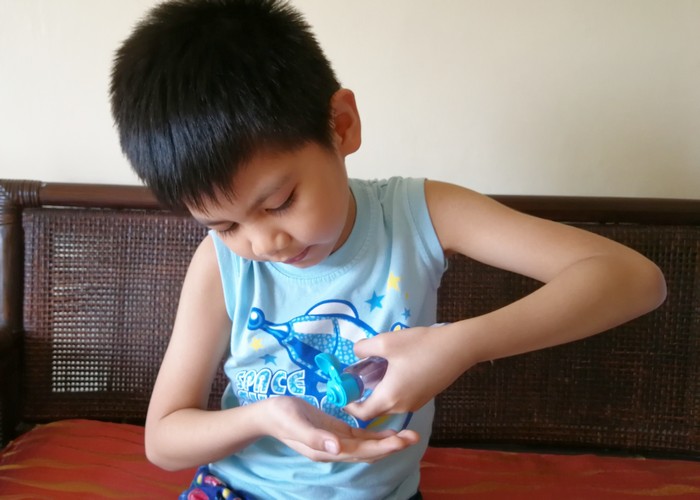 Here's what we think about:
The Packaging
The five variants come in their own color: pink for Morning Tickles, purple for Starry Lullaby, blue for Ocean Kisses, green for Cotton Cuddles, and orange for Sunny Playtime. The colors make the scents easy to identify, which makes it easy for you to see which one to grab, depending on which one you want to use.
The plastic bottle packaging also feature cute animal images in front: elephant for Morning Tickles, owl for Starry Lullaby, dolphin for Ocean Kisses, sheep for Cotton Cuddles, and Lion for Sunny Playtime. I like that each one had an adult and baby animal, which I think represents parents and their kids, in general. The images makes the packaging very fun to look at and very attractive especially for kids.
We love that there are three different sizes. The 25 ml and 50 ml are ideal for putting in your bag while the biggest one for use at home. This is super convenient for moms because we already put so many stuff in our mommy bags. The last thing we need is to lug around a heavy bottle of cologne. Plus, it's easy for the kids to bring in their school bags too. Ziggy had no problem holding the bottle too because of its shape.
The Scents
I know that as an adult I should probably be using perfume. However, I find most perfumes too strong for me and so I usually opt to use cologne instead and the ones by Bambini are definitely ones I would continue to use. All the scents are very light. They won't bother those with high sensitivity to scents, especially the kids.
All the five variants definitely leave the kids smelling fresh and sweet. I know babies already smell good on their own. However, the older kids start smelling yucky when they start becoming more active. So, having Bambini Baby Cologne definitely helps keep them smelling good.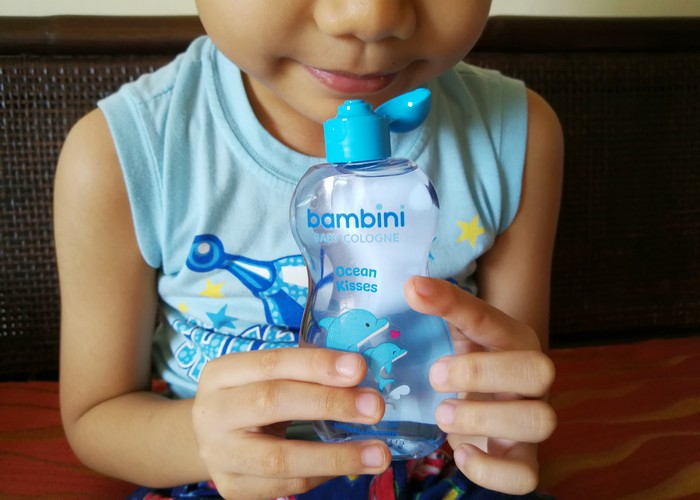 I asked Ziggy what his favorite scent was and he said it was Sunny Playtime. Zander, because he's only 18 months old, can't choose yet. But, my favorite to use on him is the Cotton Cuddles, because it's also what I use most on myself. Haha! I just really find it the mildest among all the scents. When choosing scents, I don't really go for floral or citrusy ones and gravitate towards the more clean and fresh smelling options. The Cotton Cuddles makes one smell like they just got out of the shower, which is exactly the scent that I like. To each their own but I'm sure you'd find one that you'll really like out of the five options.
Plus, since the kids smell good (and the mommy smells good too!) it's more enjoyable to cuddle up to each other and have memorable bonding moments together.
The Quality
As a mom, I'm very careful of products that we use on our kids especially on their skin because they're very sensitive. So, it was great to know that Bambini Baby Colognes are made using a mild and non-irritating formula, which makes them safe for kids. They're also hypoallergenic and dermatologist-tested.
I actually used very little on Zander at first because he has very sensitive skin. He's actually prone to eczema. I'm happy to report though that he didn't have any allergic reaction to the products. So, yay!
The Price
Bambini Baby Cologne is very affordable. The SRPs are as follows:
Php 17.00 – 25 ml
Php 32.00 – 50 ml
Php 61.00 – 125 ml
Smelling good doesn't have to be expensive!
The Availability
Bambini Baby Cologne is also easily accessible because they're available nationwide in SM Supermarket, Puregold, Super 8 Grocery Warehouse, Metro, Landmark, Savemore, NCCC Supermarket, SM Hypermarket, Gaisano Capital, Gaisano Grand, Isetann, Ever Supermarket, and City Supermarket branches.
For those of you who don't want to leave the house to buy though, you can try shopping for it on Shopee as well. Super convenient!
Overall, we're really happy with Bambini Baby Cologne. I just wish my two teen daughters were here this past week though so they could have tried the colognes as well. But, they'll be here soon so I can't wait for them to try Bambini then.
I can see us using Bambini Baby Cologne for many years. I definitely recommend them to you guys.
For more information about Bambini Baby Cologne, visit the Cosmetique Asia website or follow them on Facebook and Instagram.