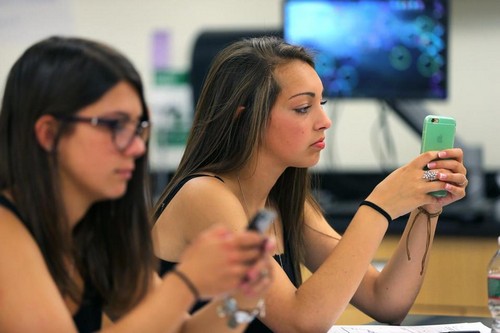 Teens today live in a digital world. A world that moves at the speed of light and a place where risks are high and privileges are many.  One thing is for sure – teens enjoy this digital environment.
Teens feel more comfortable in their online space rather than in the real world. One major reason behind their cyber priority is the freedom that they enjoy there. The freedom to become the person they want. The freedom to become friend with anybody they like, the freedom to say whatever they want. But is not safe for them. Posing themselves as a person who they are really not can make them live in their fantasy world that is far beyond the reality. Also, becoming friends with just anybody can expose them to online predators which can land them into serious problems. Last but not the least, saying anything online can destroy their digital reputation.
Most teens aren't mature enough to realize that what they post today can affect their reputation tomorrow and beyond. Hence, it is really important for parents to check on what their teens do online. To keep a close check on them, parents can use a parental control app such as FamilyTime. Using the app, they can not only connect with their teens' digital world but also control what they can and can't do. Here is what the app offers:
Monitor the web browsing history of your teen with the details of URL and the time of visit, etc.
View the list of bookmarks and favorites saved on their devices
Monitor the list of apps installed on their devices
Check the details of the app installed, such as date of installation, version of the app being used and the category the app falls in, etc.
Analyze the time spent on each application
Blacklist unwanted or inappropriate apps from their app list.
Have a look at the contact book and their additional details saved in it, such as email address, home address, date of birth, relation and organization, etc.
Check call logs with the complete information of dialed, received and missed calls, etc.
Monitor SMS history and see who your kid talks to and what do they talk about
Watchlist suspicious contacts and get notified every time the contact is made between your kid and the watchlisted contact either through a call or via SMS.
If you find your teen using the devices during odd hours, especially at night or while having lunch, you can put auto-screen locks on their devices and schedule it on a daily basis for specific time intervals, say from 9 pm to 6 am etc.
You can also put locks to restrict the use of the device immediately using the remote lock feature of the app.
There are a bundle of other features too. To explore them yourself, give this app a try for free. To download this app on your phone, go now to Google Play Store on your phone.
Monitor Teens To Set Them Free!

Give your teen what they demand most – Freedom, with the help of the parental control app such as FamilyTime that lets you monitor your teens from a distance.
So take the digital route now and ease parenting!