We're on our fourth year homeschooling this year. I can't even believe it has been that long already. I wasn't so sure we'd last more than two years. Haha! But seriously, it has been such an interesting journey, to say the least.
I love that Ziggy and I have been successful in homeschooling so far. He's learning. He's enjoying homeschooling and doesn't want to go to a regular school yet. I also enjoy teaching him and seeing him learn new things. At the same time, I get to really bond with him as well.
However, I've honestly been thinking of quitting after this school year already. It's mostly due to my feeling that I have so much on my plate already. Homeschooling takes a lot of my time. Add to that the time I need to spend on taking care of my family, doing chores, blogging, and working. As it is, I only work part-time. I really want to earn more and the only way I think I can do that is if I increase my work hours.
Nothing's final yet though. I still wish to homeschool for as long as possible. I guess, at this point, I just need some encouragement and maybe some inspiration so that I can figure out how to manage everything on my plate and still homeschool.
That's precisely why I want to attend this year's Philippine Homeschool Convention. I was only able to attend the first one, which was a few years ago and I really enjoyed the experience. I'm hoping that this year, I'll learn more things and rekindle that fire I have for homeschooling.
If you're interested to attend the convention as well, here are some helpful info you need to know.
On Fire: 2018 Philippine Homeschool Convention
This year, Educating for Life (EFL) and SMX Convention Center, SM Aura Premier are pleased to invite you to the 2018 Philippine Homeschool Convention (PHC). To be held on September 22, 2018 at the SMX Convention Center, SM Aura Premier, Taguig City, this year's convention aims to gather Filipino parents and provide them with inspiration and encouragement to keep the flame burning as they fuel and kindle their children's passion and purpose.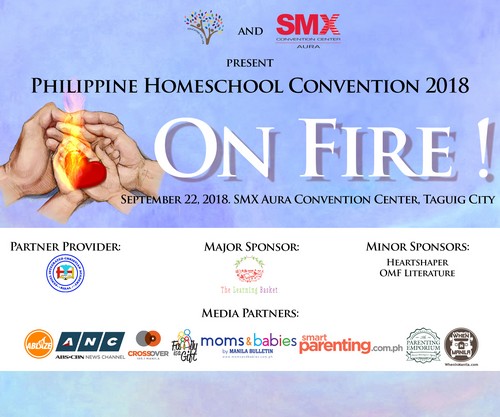 The Convention, with the theme "On Fire!", draws its inspiration from the quotation commonly attributed to the poet William Yeats, but is said to originate from Greek biographer and essayist Plutarch's original words that say, "The mind is not a vessel to be filled but a fire to be kindled."
As homeschoolers, we believe that our approach to education is characterized by this very concept. In homeschooling our children, we do not merely fill their minds with information. We aim for character-building that goes beyond the academics. We strive to guide our children to find what fuels them. We kindle these passions and vocations in the hopes that they find their meaning and purpose in life.
Thus, "On Fire!" is also a call to all Filipino homeschoolers—parents and children alike—to make a difference in a world that seems void of hope, empathy, and compassion. As we kindle the fire within our children and teach them life's most important lessons, may all homeschooling families become tiny sparks that together will set the world ablaze.
Speakers, Program and Activities:
This year's Philippine Homeschool Convention features inspirational speakers and seasoned homeschooling parents who aim to rally all homeschoolers to "Light the Fire", "Fan the Flame," and "Spread the Fire" of homeschooling within their families and communities.
The line-up of speakers consists of both international and local speakers who will leave the participants inspired, encouraged, empowered, and equipped to start or continue their respective homeschooling journeys with even greater passion than before.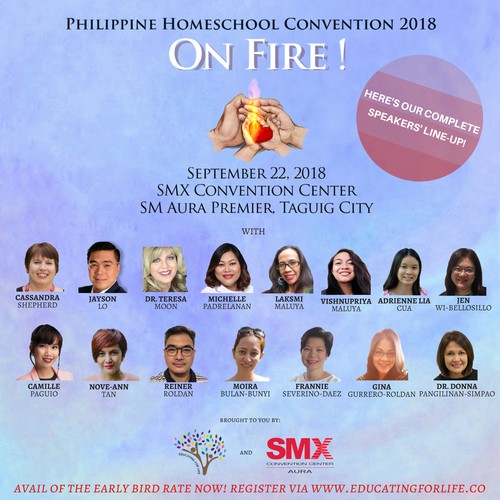 Among them are homeschool student-turned-homeschooling veteran mom and advocate Cassandra Shepherd from New Zealand/Singapore, homeschooling dad, bestselling author and sought-after motivational speaker Jayson Lo, veteran homeschooling mom, author, and speaker at major U.S. homeschool conventions Dr. Teresa Moon from the U.S., and homeschool coach and author of the first homeschooling book in the Philippines Nove-Ann Tan.
Click this link for more information about the speakers.
Click this link for a copy of the program.
Click this link to view the PHC topics for the plenary and breakout sessions.
Similar to the past conferences, there will also be an Expo and activities for kids and teens.
Registration:
Interested PHC participants can register online via this link.
Below are the registration fees:
* Early bird rate – Full access (With access to plenary talks, breakout sessions and expo) – P1000 per participant
* Expo only ticket – P100 per person
* Walk-in and on-site payment rate – Full access – P1200 per participant
* Kids 3 and below are free (lap seating only)
Physical tickets are also available at the following:s
Catholic Filipino Academy
OMF Literature Bookstores
Peniel Integrated Christian Academy of Rizal
The Parenting Emporium
Hope to see you there!