Our baby Zander will be turning 2 in less than a month and it has been a joy watching him develop into such a sweet, bubbly, and talented little boy. One of the things he loves is music. He loves listening to it, dancing to it, and singing along with it as well. That is why when I was exploring what toy to get him from TOYTAG I chose this Mighty Mini Band by Hape.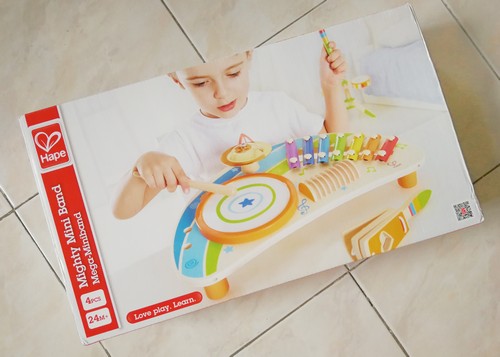 What is TOYTAG?
TOYTAG is a homegrown educational toy store in Singapore. They actually have both online and physical stores. They believe that learning can be fun and so they carry a huge selection of quality and fun educational toys and games from all over the world. They have toys for all ages, for one-year-olds up to adults.
At TOYTAG, you can shop by age or via type of toy, such as tabletop games, tech and gizmo, play, and brain. Another great thing about them is that they ship worldwide (hooray for us in the Philippines!) and fast too! I remember placing my orders on a Friday and receiving the toys the Monday after.
MIGHTY MINI BAND by Hape
Hape is a well-known brand of safe and educational toys. In fact, it is one of the world's largest producers of toys made from sustainable materials. All their toys are creatively designed, eco-friendly, and adhere to exceed the strictest international standards of quality of safety.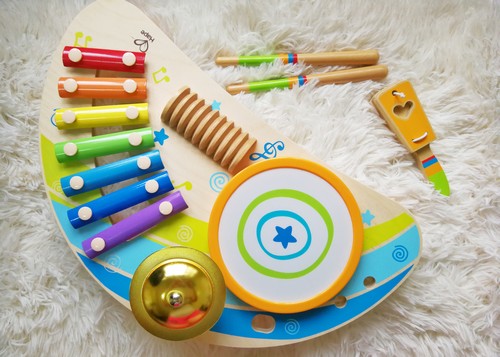 One of their musical toys for toddlers is the Mighty Mini Band, which is designed for kids aged 24 months and above.
The box contains only four pieces and features a collection of rhythm instruments. This toy is made of wood, PA, PVA, string, metal and waterbased paint.
Our Review:
No assembly required.
I love that setting up this toy is such a no-brainer. You just place the big piece on top of a table or a solid surface then place the drum sticks and the clapper on the hole pegs at the top left part of it.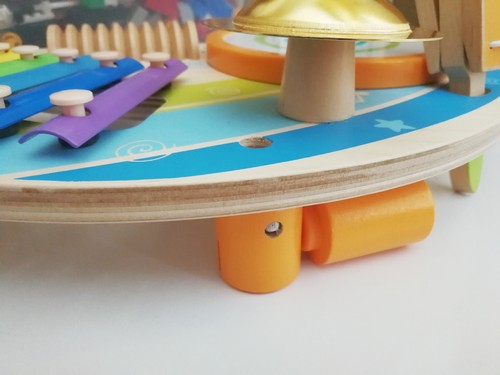 The stands can also be set two ways. You can place in in such a way that the back part will be higher, but you can also bring it down so that the whole mini band will lay flat.
Easy to store.
After playing, you don't need to disassemble anything. Just place the clapper and sticks in their hole pegs and store the mini band on a shelf.
Made of safe materials.
When it comes to toys for my kids, especially Zander who's barely two years old, safe materials are a must. I especially love that this toy is a wooden toy and painted with waterbased paint. There's nothing toxic on it.
Plus, I researched about how Hape ensures the safety of their toys. I'm happy to learn that they do conduct several safety and quality control measures such as sharp point tests, bite force tests, tensile tests, small parts tests, color tests, and drop tests. This is especially important to me because at Zander's stage right now, he loves to bite on things and throw things as well. So far, this toy has withstood his biting and throwing well. Haha! None of the parts have broken off.
It's educational.
I believe that kids' toys need to teach them vital skills and I'm happy to say that this Mighty Mini Band does exactly that. It helps improve fine motor skills and other physical skills. It teaches problem solving and self discovery and enhances social skills, imagination, and creativity.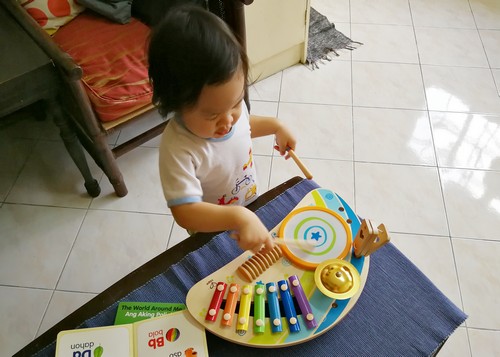 At first, Zander didn't know how to hold the drum sticks properly but he got the hang of it pretty quickly. I also showed him how to place them back in the proper holes and now he knows how to do it too, even without prompting. The whole mini band is also light enough for him to carry. He carries it on his own from the shelf to a table or to the bed whenever he wants to use it.
It's fun.
As I expected, Zander loves playing with this toy. Although this is not the first musical toy he's had, this is the first one that resembles an instrument. His other musical toys are battery operated and do not teach him how to actually make music. Now he loves playing music either on his own or sometimes with me, his dad or siblings.
Overall, we really love this toy and there really isn't anything negative I can say about it. In fact, I'm hoping to have more Hape toys for Zander.
Extra thanks go to TOYTAG for sending us this toy for our review. I really love their toy selections and feel that there's still so much there that I have yet to explore. I'm happy though that we have another one of their toys for review. So, stay tuned for that!
For more information on TOYTAG, visit www.toytag.com.