Yes, it's that time of the year again when parents of school kids are busy back-to-school shopping. Even though we are homeschooling we are not free from that because we still need to stock up on our own school supplies too.
Aside from the supplies though, I'm also currently re-organizing our homeschool room. So, I'm going to need a lot of storage items to properly organize all our new books and supplies.
That said, I'm so happy to learn that the National Book Store Grand Back to School Fair is happening this weekend. Yay! It's the perfect venue for parents like me to go and shop for school supplies.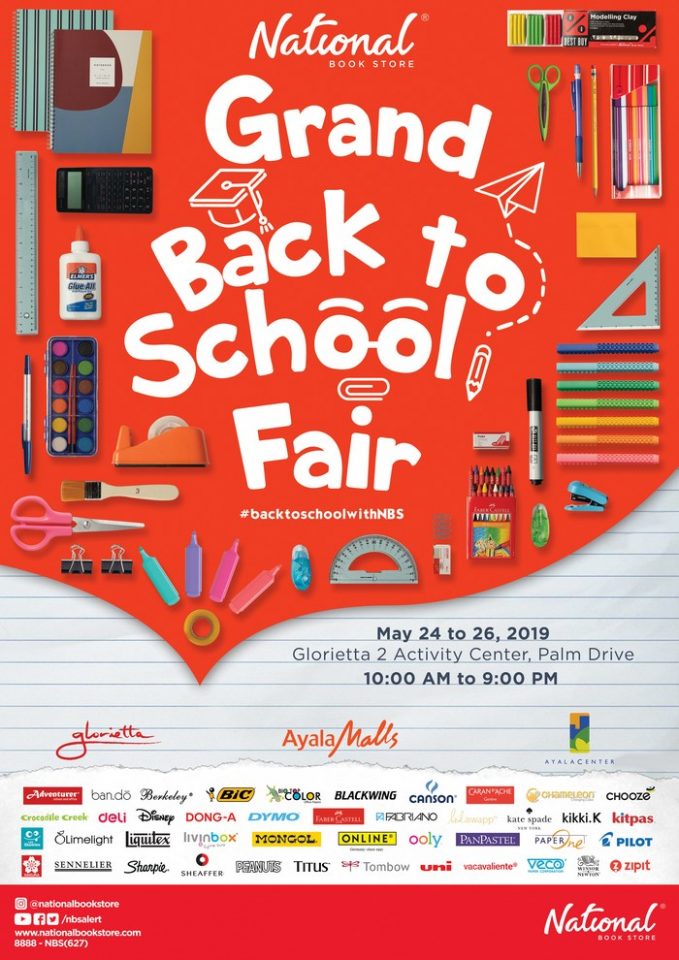 National Book Store is inviting you all to shop for the school supplies you need at their Grand Back to School Fair, happening from 10:00 AM to 9:00 PM on May 24 to 26, 2019 at the Glorietta Palm Drive Activity Center in Makati City.
There is so much to look forward to at the event! Enjoy all of the special offers for the back-to-school season. Get a backpack for Php 100 or a lunch bag for Php 75 with every Php 300 single-receipt transaction with any participating item. You will also be gifted a Php 100 NBS Gift Card with every Php 3,000 single-receipt transaction. Be one of 6 winners of Php 5,000 NBS gift card or 30 winners of Php 1,000 worth of school supplies.
Save time and energy with the Grab & Go packs and get big savings with the Budget Bundles. For quick and easy shopping, get the Backpack to School for Grades 1 to 3 (P345) and Grades 4 to 6 (P445).
Shop for the supplies and accessories you need for the new school year, whether your kids are in elementary, high school, or college.
Special thanks to all of the participating brands: Adventurer, Berkley, Bic, Biotop, Canson, Deli, Dong-A, Dymo, Faber-Castell, Fabriano, Limelight, Liquitex, Livinbox, Mongol, PaperOne, Pilot, Sakura, Sharpie, Titus, Tombow, Veco, Uni, and Winsor & Newton.
We are definitely not going to miss this! Hope to see you at the National Book Store Grand Back to School Fair! Happy shopping!