This year is our 6th year homeschooling. Wow, I can't believe it's been that long. I honestly didn't think at first that we would last this long in this journey. The fact that we are still doing it and still enjoying it makes me so happy.
It hasn't been a walk in the park though. There are definitely lots of ups and downs. However, I can honestly say that homeschooling has been a great experience for us.
Last year, I had feelings of overwhelm already and was questioning whether we should still continue homeschooling. What helped clarify things for me was attending the Philippine Homeschool Convention in September. (You can read about my experience at the convention here.)
As it turns out, all I needed was a little inspiration and a little reminder of WHY we do what we do. The convention renewed my love for homeschooling and gave me the motivation to make our experience better.
So, I guess it goes without saying that I do highly recommend attending the annual convention whether you are still thinking about homeschooling, a newbie homeschooler or even a veteran. It is my hope that the convention will help you in your homeschooling journey as well.
With that said, I am so EXCITED for this year's convention coming next month! Here's what you need to know.
No Place Like Home: The Philippine Homeschool Convention 2019
Educating for Life (EFL), the organizer of homeschool conferences in the Philippines since 2014, is proud to present the 2019 Philippine Homeschool Convention, "No Place Like Home".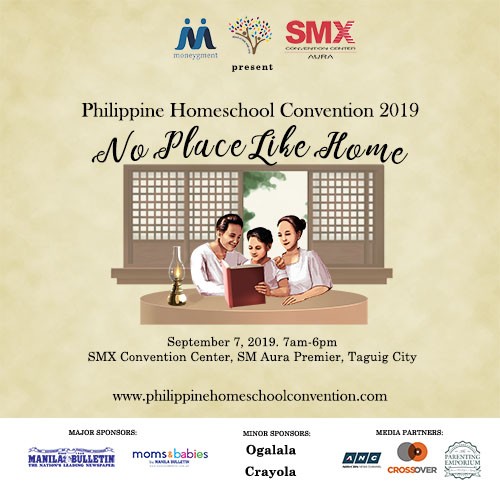 To be held on September 7, 2019 at the SMX Aura Convention Center, Taguig City, we gather in this annual event to further pursue our vocation as homeschoolers and celebrate the essence of home, of family, of this virtuous calling of educating our children.
The Convention's theme is inspired by this quote from Mahatma Gandhi: "There is no school equal to a decent home, and no teacher equal to a virtuous parent."

Believing that there is no place like home—especially when it comes to teaching our children—let's equip ourselves so we can forge ahead in the difficult but extremely rewarding task of educating our children not just academically, but in other aspects too. Character. Virtues. Life lessons. Things that they don't normally learn from textbooks and within classroom walls.
It is the essence of home, of family, of this virtuous calling of educating our children that we celebrate in No Place Like Home: the Philippine Homeschool Convention 2019.
Our line-up of speakers consists of both international and local speakers who will leave the participants inspired, encouraged, empowered, and equipped to start or continue their respective homeschooling journeys with even greater passion than before.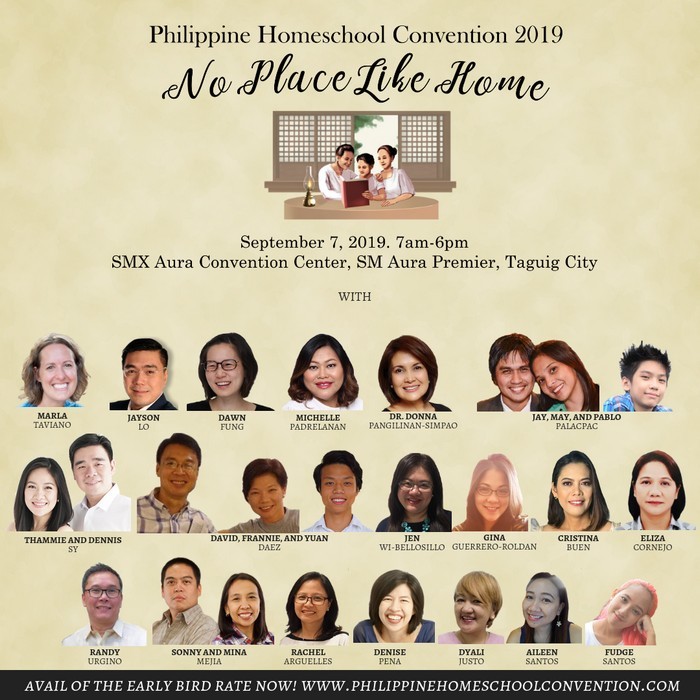 You can view all the PHC topics and speakers here. You can also view the schedule of the PHC here.
Right now, until September 1, you can avail of the Early Bird Rate of only P1000 for the All-Access Pass (access to all plenary sessions and breakout sessions, plus the PHC Expo featuring different products and services that are helpful to homeschooling families). To register, just go here.
If you have any questions about the PHC, please feel free to visit our website's FAQs section.
Hope to see you guys there!