Hey, everyone! I'm back! I'm so sorry I've been MIA here lately. Life has been so hectic. So much has happened. There are so many things I want to share with all of you, especially with regard to homeschooling, but that will have to wait.
Today, I want to talk to you about a new toy that was given to my kids several weeks ago for them to try. It's called the Domino Puzzle Traffic by Mideer Philippines.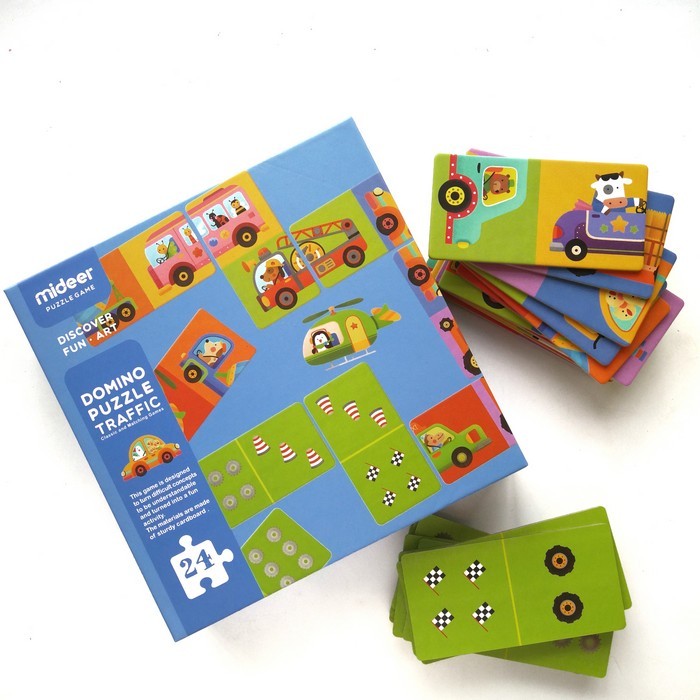 Mideer – A World of Wonders
Mideer is a brand that believes that the world is a wonderful place and that kids must be allowed to explore the wonders that abound in their own way. They design their toys to hone your child's eye for design, with an abundance of color, patterns, and characters that they will enjoy.
They have a wide variety of toys such as their Travel Doodle, Magnetic Responsibility Chart, Baby Gaby Toothbrush Timer, and the Kids Storybook Torch.
Mideer also has their own line of puzzles that teach basic concepts and skills such as shape recognition, concentartion, goal setting, patience, and sense of achievement. It develops your child's hand-eye coordination and fine motor skills as well as improves their problem solving, critical thinking, visual-perceptual skills, and memory. They can even teach your kids teamwork too. One of the puzzle sets they offer is the Domino Puzzle Traffic.
Domino Puzzle Traffic
The Domino Puzzle Traffic is a fun matching game that is designed to turn difficult concepts to be understandable and entertaining at the same time. The box contains 24 pieces of double-sided puzzles that teach kids about numbers and pairing. It can be played either as a puzzle or as dominoes when you pair them. Made for kids ages 3 years old and above, this game comes in big pieces that can be easily grasped by your kids.
The game comes in a sturdy and colorful square box. When you open it, you'll see a small sheet of paper that shows you an image of how the game is played as well as a plastic package containing the puzzle pieces. The puzzle pices are double-sided with one side showing images of vehicles in half. The other side has traffic-related images such as tires, flags, traffic cones, and others.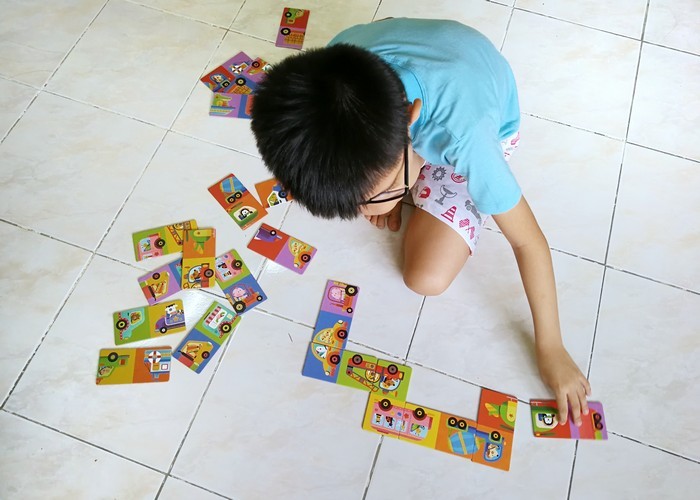 The game can be played in two ways. If there's only one player, your child must first recognize the traffic and then place down a domino that correctly completes one of the two traffic pictures with the end pieces on the table.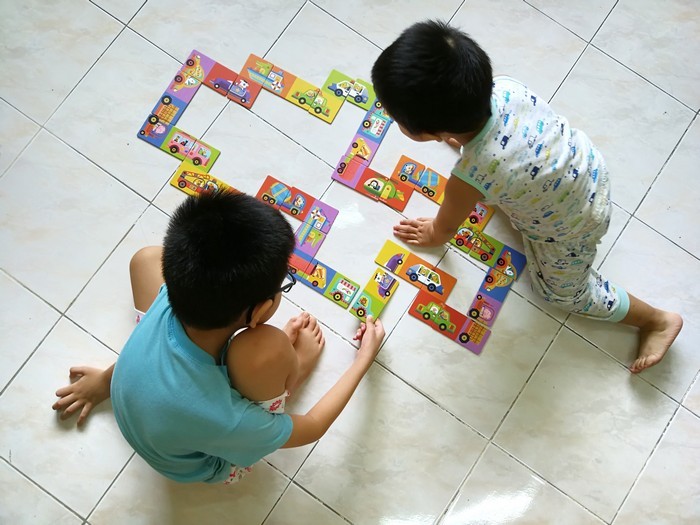 If there are two or more players, they each start with 6 dominoes first. The first player places a domino on the table then each player takes their turn to match one of their dominoes to those already laid. The first player who has no dominoes left will be the winner.
Our Review of the Domino Puzzle Traffic:
We've played the Domino Puzzle Traffic several times already. I've used it with my 8-year-old, Ziggy, and my then 2-year-old, Zander (who turns 3 today!).
Here's what we think about the game.
I like that the game is simple and that there's no assemby required. While I don't mind assembling games sometimes, there are days that I just don't have time to do it. With this one, you just open the box and take out the pieces.
I love that the pieces are made of thick cardboard because my boys are not always careful in handling their toys. With this, I don't need to worry about them damaging the pieces. So far, they still look brand new even after playing with them several times already.
I like that the pieces are big enough for my 2-year-old to hold comfortably.
I like that there are two ways to play the game. While Zander can't totally manage playing with this alone, Ziggy definitely can. If they want to play together, they can as well.
I like that it's both a fun and educational game. If you know me at all, you'd know that I'm a sucker for educational toys. The game may be too easy for Ziggy now that he's already 8 years old though but he still enjoys it.
Zander still has difficulty playing with the vehicle side of the pieces. Maybe because his mind gets a bit confused with all the different types of vehicles in various bright colors. It's probably because he was barely 3 years old when he started playing this. He does better playing with the other side. I think it's because the backgrounds are all the same color and his mind can just focus on the images themselves. He also has fun with the game and is always really proud when he is able to match an image.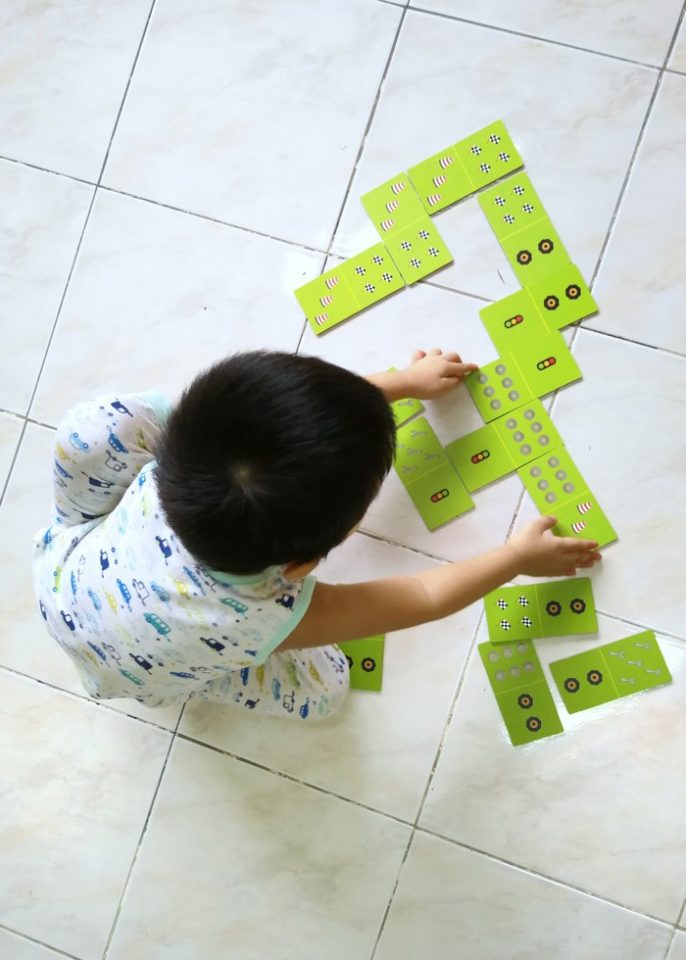 Overall, we really like and enjoy playing this game. I would definitely recommend it especially for preschoolers, kindergarteners, and lower grade school kids.
If you want to buy one for your kids or if you just want to learn more about Mideer products, follow them on Facebook and Instagram. Their toys are available in select branches of Toy Kingdom and Toys 'R Us.
Now for the exciting part!
Our generous friends at Mideer Philippines are sponsoring a giveaway. They're giving away one (1) Domino Traffic Puzzle to one of you guys. Yay!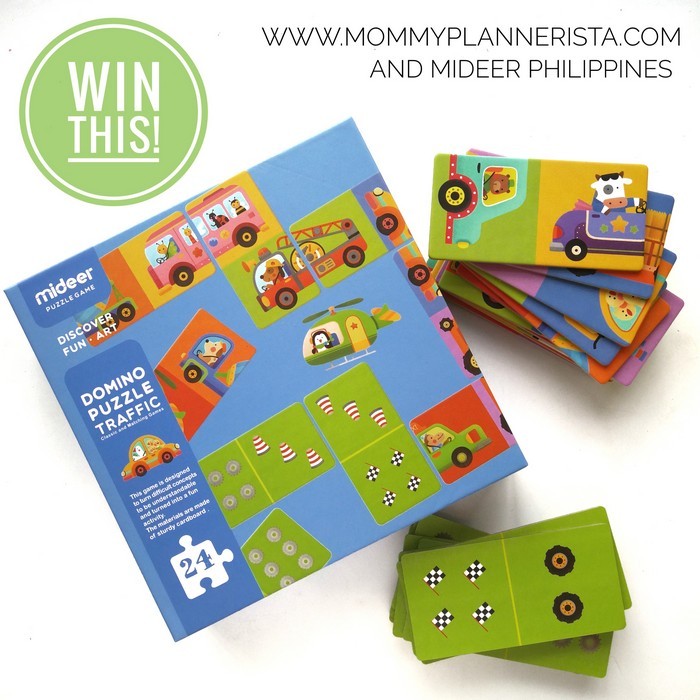 I'm hosting the giveaway over on my Instagram account, so head over there now to join. The exact mechanics will be there as well. Good luck!
Thank you, Mideer Philippines!