One thing new we did in our homeschool this year was to try doing unit studies. After researching on how to start and what to use, I decided to start with one subject first – Science. I came into this decision after watching so many videos on the Science unit studies by The Good and The Beautiful (TGTB). We did Marine Biology first for the first quarter of the school year and Introduction to Energy for the second quarter. Today, I wanted to share with you our review of the latter.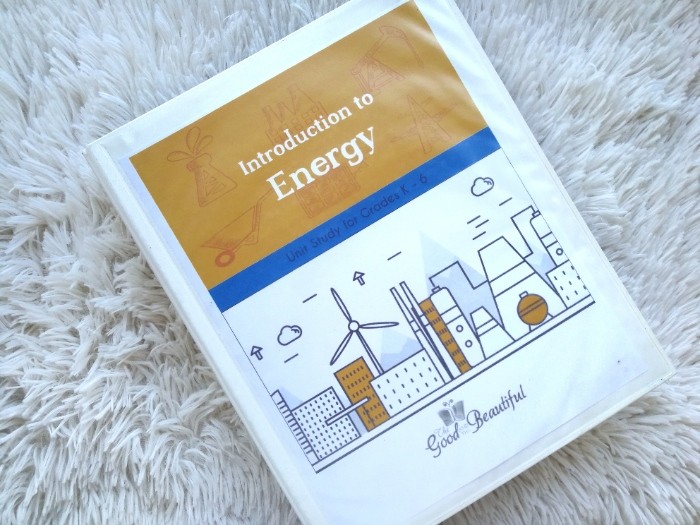 The Good and The Beautiful
First, let me tell you about TGTB.
TGTB was launched by Jenny Phillips in 2015. She's a Christian singer-songwriter and homeschooler who decided to create her own curriculum because she couldn't find one that she really loved.
According to the TGTB website, she wanted to create a curriculum that:
"Used completely clean and powerful literature
Combined subjects for more meaningful learning and shorter school times
Was completely open-and-go
Was academically strong and very thorough
Emphasized God, nature, and high character
Was visually beautiful, engaging, and meaningful"
TGTB is Charlotte Mason-inspired and that's what initially drew me to it. I wanted to incorporate more Charlotte Mason teaching strategies in our homeschool this year (without necessarily being a purist) and TGTB sounded like the perfect curriculum to get our feet wet, so to speak.
To learn more about TGTB, please visit their website.
Introduction to Energy
This unit is just one of their many Science units available. This one is supposed to be a prerequisite unit which will provide a general overview of all the other energy subjects such as Heat, Light and Sound, Gravity, Forces and Motion, Simple Machines, Electricity, and Magnetism.
All of the TGTB science units are designed for K-6 with extensions for grades 7 – 8. They are written from a Christian, Bible-based point of view. At the time of my puchase in August 2019, it was available in both Printed + PDF version or PDF (printable) version only. I chose the PDF only at $11 because I knew shipping from the US would cost me a ton.
Take note though that as of this writing, TGTB has apparently decided to combine the Intro to Energy plus their Energy: Heat, Light, and Sound units and this is currently being developed. Nevertheless, I decided to still write this review to give curious parents an idea about the TGTB Science units and how it worked for us.
The Introduction to Energy unit is actually quite short, only consisting of 6 topics as you can see below.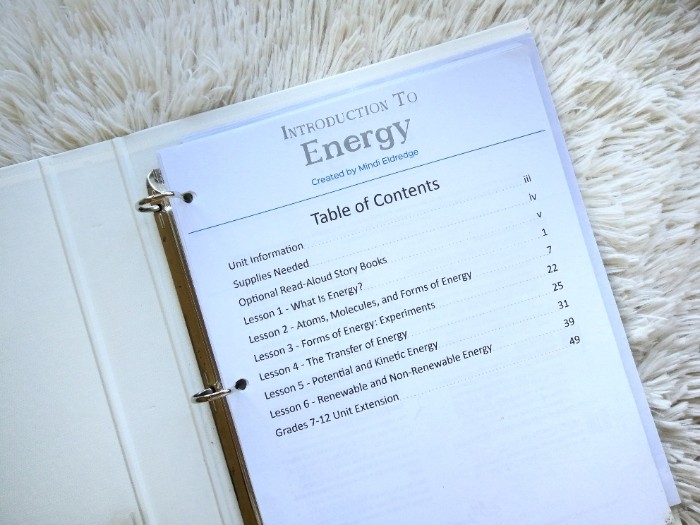 It comes with all the lessons as well as printables that include vocabulary cards, flash cards, games, etc. I chose to display most of them on our Science Wall.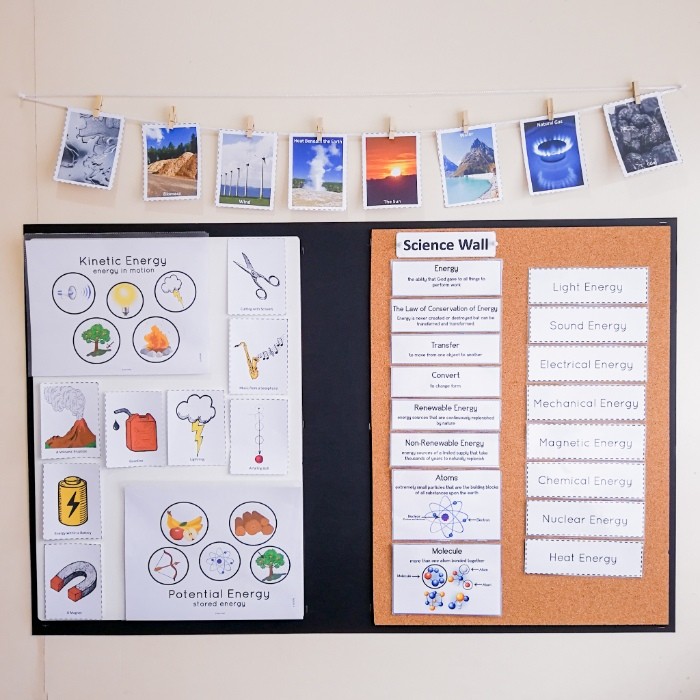 What I didn't include on the Science Wall are these mini books that come with the unit as well.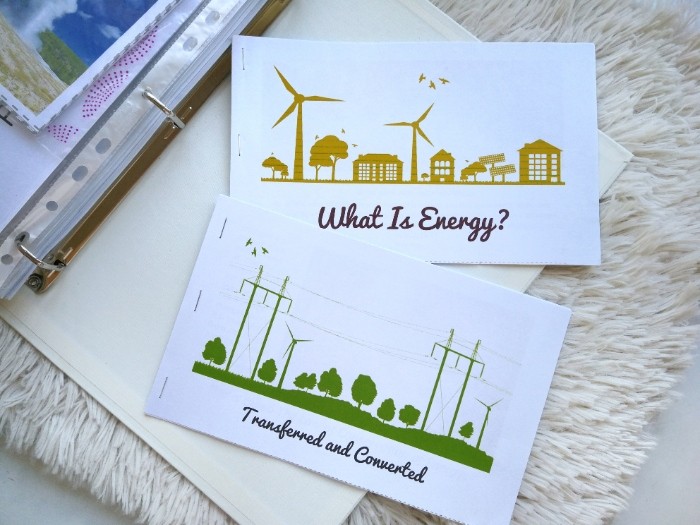 Below you can see some Unit Information which explains to you what teaching this unit will entail as well as a list of all the supplies you will need per lesson so that you can prepare them in advance. The Science Wall is actually something that TGTB suggests you put up when using their Science units.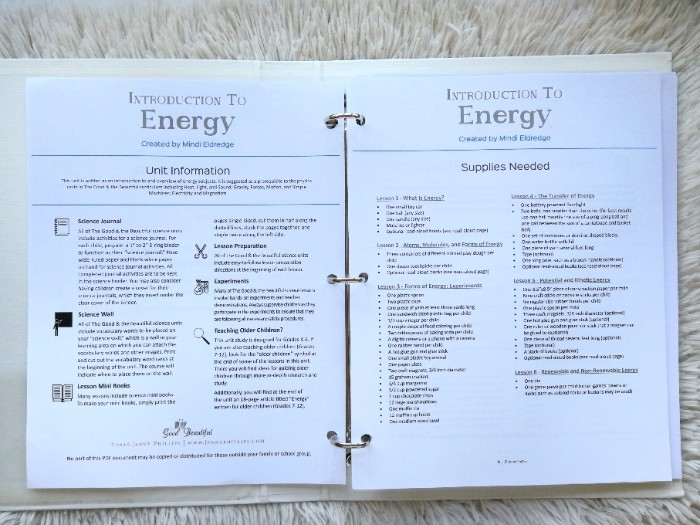 Here's a sneak peek of Lesson 1. As you will see, the lesson starts with an objective as well as a short list of what you need to prepare.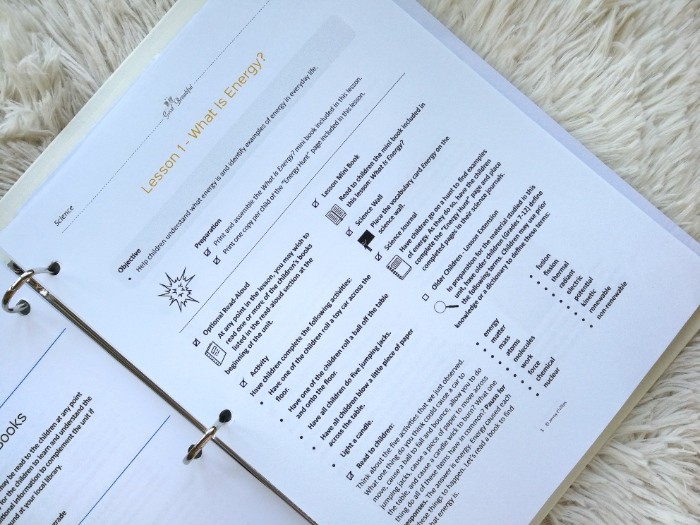 Each lesson varies in terms of activities. However, there's always a lesson to read to the kids, various activities, and in some cases, experiments as well. Everything you need to say to the student are right there on the page. Each time you complete the task you just check them off and proceed to the next one.
Our Thoughts
After completing this unit, I thought of the things we liked and disliked about it.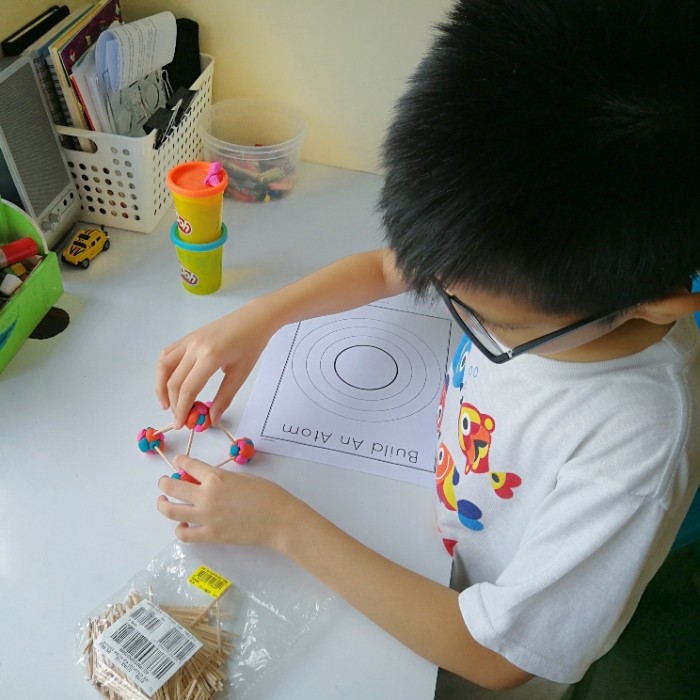 Likes:
The lessons are easy to follow and understand. You literally just need to read the lessons as well as the instructions and then let the child complete the activities. My son is 8 years old and in 3rd grade and he had no trouble with the unit at all.
We did this unit during the second quarter of the school year which is the shortest. It was perfect for that because it only has 6 units. We could have finished the entire thing in less than a month. I just chose to extend it a bit to last 6 weeks.
I think the lessons do provide a good overview of all the other more advanced energy topics.
I like that there is always some activity to reinforce the lessons. The variety of activities is what makes TGTB Science interesting for me and my son. The games are the ones my son enjoyed the most. I had my 3-year-old join us in some of the activities as well and he also enjoyed them even though he couldn't really understand the lessons yet.
I like that they have a list of optional read-alouds that you can find from the library or bookstore.
I also like that there are extension lessons for grades 7 and 8. We didn't need them yet but at least we have them already when the time comes that we'll need to review this topic again in a few years.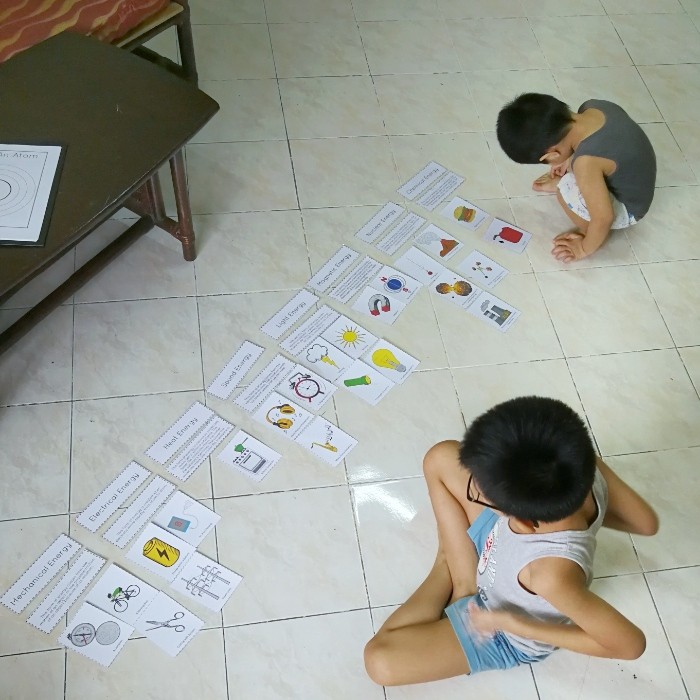 Dislikes:
I would have preferred to use something that is ready-made already. However, since I chose the PDF option, I had to print everything, punched the pages and placed them in a 3-ring binder. I had to cut and laminate the vocabulary cards, flash cards, etc and that took some time. So in that sense, it's not completely open and go. However, once you've done this prep before you start the unit, it becomes pretty much open and go already. I don't regret getting the PDF because I plan on using this again when my youngest is a bit older, so I can just reprint it then without purchasing again.
It's fun but not as fun as the Marine Biology unit. However, I know that's only because this is just an intro unit. Marine Biology was super comprehensive and colorful with lots of experiments and other activities (full review of that coming soon).
There wasn't a lot of work involved. This is not a bad thing. However, our homeschool provider requires a good mix of both written tasks and performance tasks (recitation, hands-on activities, experiments, projects, etc). Since this is a short unit, there weren't a lot of those so I just had to supplement a bit.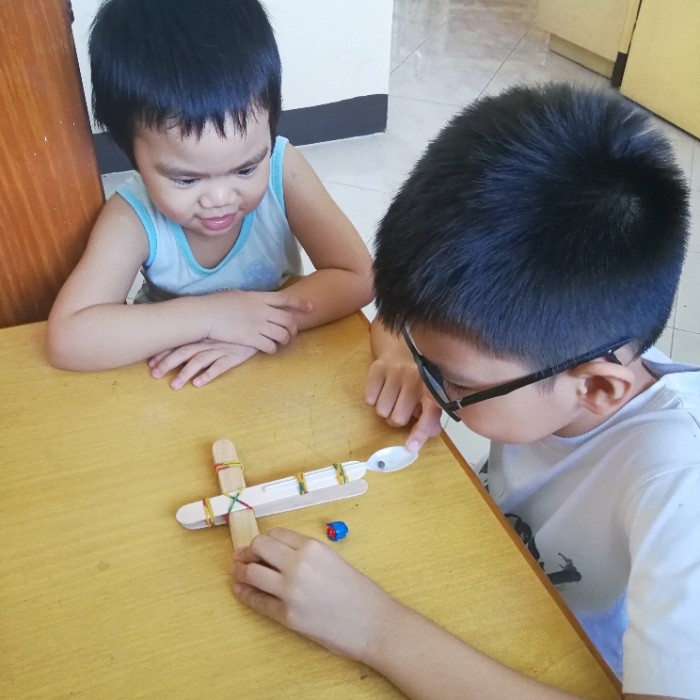 Some parents are concerned about TGTB being created by someone who's from the Church of Jesus Christ of Latter-Day Saints. Being Catholic myself, I also wondered whether some of the contents will contradict our family's beliefs. However, I didn't find anything like that at all in this unit (or in the Marine Biology unit). Mostly, they just mention every so often how amazing God is for creating the world and other similar sentiments. So, I think anyone regardless of religion will find this unit suitable but of course, it's up to you make your own judgments as well after you try it out.
Overall, I think the Introduction to Energy unit is a good one to try. It's fun on its own although maybe not as engaging as the other TGTB science units but my son learned what he had to learn. I definitely recommend it.