This is such a delayed post. I received a couple of packs of Sugar Blend months ago but I've been so busy with the new baby that I really didn't have the time to come up with a unique recipe using this alternative sweetener.
I finally got a chance to whip something up yesterday. It's not really original. It's based on my mango float recipe but I changed it a bit and used bananas instead because that's the only fruit we had at home. But before that, let me introduce you guys to Sugar Blend.
Sugar Blend
Sugar Blend is one of the many products of Merisant Company, a global leader for table-top sweeteners. Merisant also manufactures some of the world's most loved sweetener brands such Equal, Canderel, and Pure Via.
I learned from the company that sugar ranks #5 in the top 20 most commonly consumed food products in Filipino households based on the 2013 Food Consumption Survey by the Food and Nutrition Research Institute of Department of Science and Technology (FNRI-DOST). With this in mind and along with the conscious effort to deliver more value to consumers, Merisant has come up with a versatile and affordable sweetener product that can go a long way in terms of providing healthy sweetness to your everyday food and drinks. This is especially important to us because my hubby is borderline diabetic and so we really need to regulate our sugar usage at home.
Sugar Blend can be used for baking, cooking, and sweetening, but uses half the amount (vs. equivalent sweetness of sugar) and even has half the calories! It is made with sugar and a high-intensity sweetener called sucralose and for One (1) teaspoon only, it can provide sweetness that is equivalent to 2 teaspoons of sugar. Sugar Blend works well with all types of desserts as well as other everyday dishes where sweetness is needed. It can also be used to replace sugar in beverages such as coffee, tea, hot chocolate and all kinds of juices and refreshments.
Because I'm breastfeeding, I also have to be extra careful with my sugar intake. I love using Sugar Blend in my nursing mama coffee and tea. I've also used Sugar Blend in cooking different types of food such as champorado and even on chili con carne. Honestly, we have already stopped buying regular white sugar and prefer to use Sugar Blend instead.
Deconstructed Banana Float in a Cup
But today I'm sharing with you how I used Sugar Blend in a dessert, specifically this Deconstructed Banana Float in a Cup.
As mentioned earlier, this one is a play on my Mango Float recipe, which is a family favorite. I usually make mango float in an aluminum tray. I used glass cups for this one because I wanted to try a deconstructed version that's easier to serve. I also substituted condensed milk in favor of Sugar Blend to make this a healthier dessert or snack. 1/4 cup of Sugar Blend was more than enough compared to a can of condensed milk, which is what we normally use.
This was such a hit with our family too! I love that we still get that yummy, sweet taste of the cream mixture plus the bananas even without using condensed milk. That's all because of Sugar Blend! Try it and you'll love it too, for sure!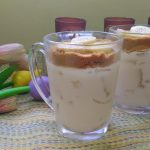 Easy to prepare banana and cream dessert using Sugar Blend.
Servings

Prep Time

4

cups

20

mins
Servings

Prep Time

4

cups

20

mins
Easy to prepare banana and cream dessert using Sugar Blend.

Servings

Prep Time

4

cups

20

mins

Servings

Prep Time

4

cups

20

mins
Mix the all-purpose cream and the Sugar Blend in a bowl. Set aside.

Break the graham crackers into small pieces and place some inside the cup, just enough to cover the bottom.

Cover the graham cracker layer with a few spoonfuls of the cream and Sugar Blend mixture.

Place several banana slices on top of the cream mixture.

Repeat steps 2 - 4, making several layers until you reach 3/4 of the height of your cup.

Cover the last layer with ground graham crackers and top with a few slices of bananas to decorate.

Cover the glass cup and place it inside the freezer until frozen. Enjoy eating!