Several weeks ago, I was presented with an opportunity to try some Nature Earth products so that I can review them on this blog. When I learned that one of their products is the M2 Tea Drink I got really excited because I have read good reviews about it as a breast milk booster.
So, the first time Nature Earth sent me a package they sent me a few 300 ml bottles of M2 as well as a pack each of their Kamote chips in Plain and in BBQ flavor.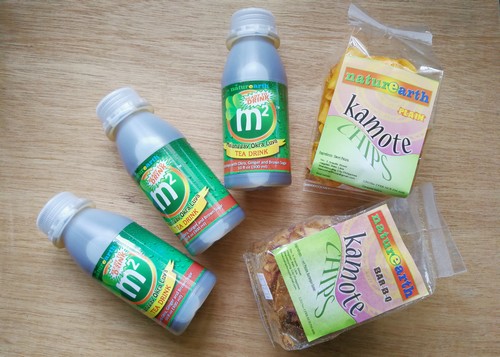 The second time they sent me a package, I got a 1 Liter bottle of the M2 Tea Drink Concentrate as well as a pack each of their Shing-a-ling in Cheese, Sour cream, and BBQ flavors.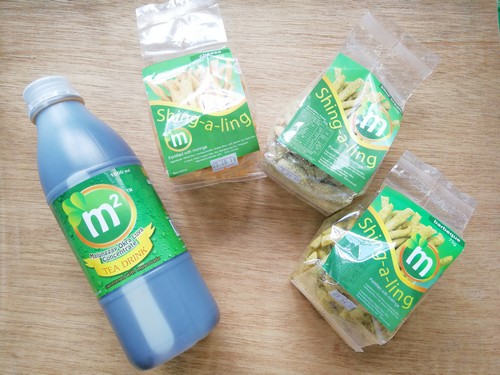 Let me tell you about each of these products.
M2 Tea Drink
M2 is actually a Malunggay, Okra, and Luya tea drink that's available either as ready-to-drink or as a concentrate. The ready-to-drink bottles are 300 ml while the concentrate is available in 1L bottles.
It's interesting to note that while malunggay, okra, and luya are the main ingredients, there is a difference between the ready-to-drink and the concentrate in terms of the sugar used. The ready-to-drink is composed of water, moringa, okra, ginger, citric acid, sodium benzoate (used as a preservative) and brown sugar. The concentrate is composed of the same ingredients except that it uses muscovado sugar. I'm not really sure why this is so though.
Below you can see the Nutrition Facts printed on the label. I like how healthy this drink is. It's like eating veggies but made easier because all you have to do is drink it.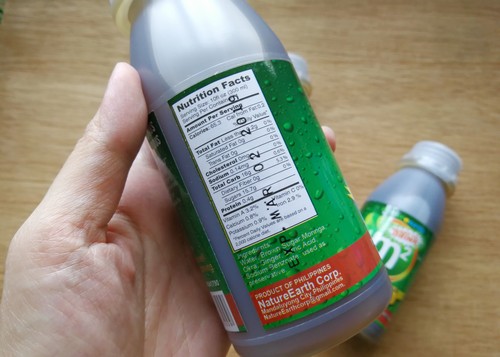 One of the things I really like about both types though is that they are really properly sealed, which means contamination will be avoided and I guess this also keeps the product fresh. As you can see below, aside from the outer cap, there's a seal that you have to remove before you can drink or pour the tea.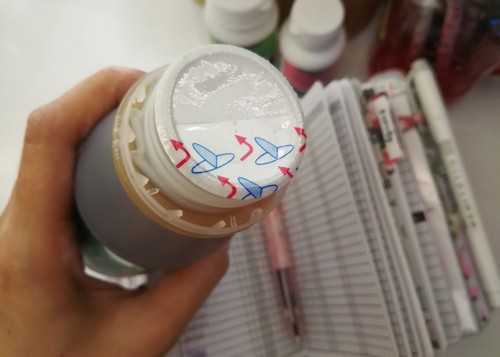 Taste-wise, I was expecting it to taste like vegetables which I wasn't really looking forward to. Surprisingly though, it has a light tea taste that does not taste like vegetables at all. I could taste a slight tinge of ginger but I was not at all put off by it. I also like that it's not too sweet unlike the commercial iced tea drinks that you can find in the supermarkets, which are not even healthy either.
Another plus is that, with the concentrate at least, you can choose to prepare it hot or cold. I prefer to take it cold though especially during these hot summer months.
So, you breastfeeding mamas might ask if it actually helps with breastmilk production. Well, I drank M2 for several days and I feel like it really did help boost my milk supply. I direct feed my toddler so I wasn't able to measure how much of an increase there was. But I say it helped because I felt my breast become fuller. Also, I experienced milk letdown on the unused boob whenever my toddler is nursing. I normally don't experience letdown anymore since my toddler started eating solid food regularly. I don't even wear breast pads anymore but since drinking M2, I had to wear them again. I can definitely say that this is a must-try product for nursing moms.
Nature Earth Kamote Chips
We were able to try the Kamote Chips in both plain and BBQ flavors. They're made with just sweet potato. They only added BBQ flavor to the other one.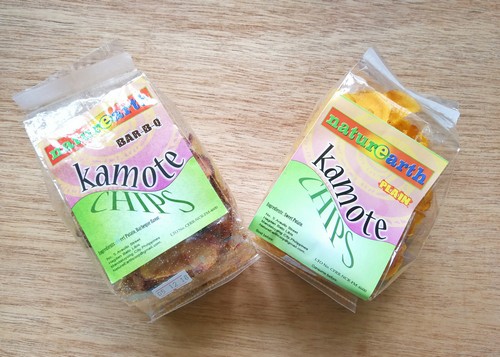 The plain one tasted a bit bland while the BBQ flavor only had a hint of spice on it, which is exactly what I like. Even my toddler liked it!
I definitely love this as a healthy snack that I wouldn't feel guilty about giving to my kids.
Nature Earth Shing-a-ling
We were able to try the three Shing-a-ling flavors – cheese, sour cream, and BBQ. They're made with wheat flour, salt, pepper, lye, food color and flavoring. Compared to the Kamote Chips though, the Shing-a-ling is fortified with moringa.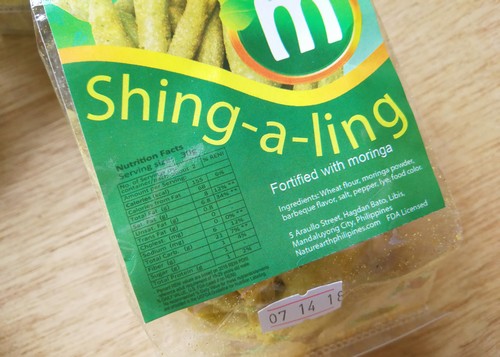 Prior to this, I've only ever tasted the plain Shing-a-ling. The flavors definitely make them more interesting to eat. I like all three flavors. But I gotta say that my favorite is definitely the cheese one. The Shing-a-ling is really crunchy. My toddler loves it too. I find it so hard to stop munching on them.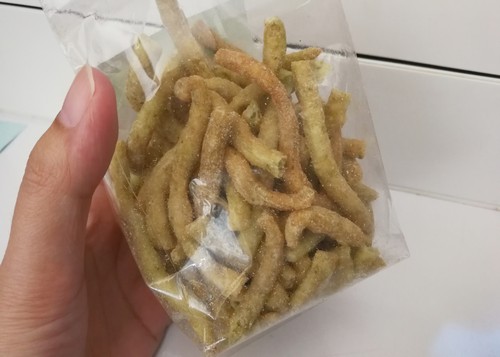 Overall, we are really pleased with all these Nature Earth products. They are products that we'd always love to have at home, especially the M2 Tea Drink. I don't really have vices but I do like drinking iced tea. At least with M2, I'll be drinking a healthier version that will also help with my breast milk production.
If there's something I would suggest for improvement, it would be the packaging of the Kamote Chips and the Shing-a-ling. It would be nice to have a packaging that is resealable. That would be it.
For more information on Nature Earth products, visit www.naturearthphilippines.com or follow them on Facebook.