It's back-to-school season already, moms and dads! Because Robinsons Supermarket celebrates its wellness commitment by creating fun activities that promote healthy family bonding, they have recently launched a campaign, Fit Kids: Back-to-School Promo to help young students prepare for a brand-new school year.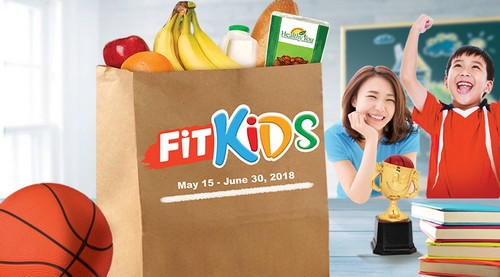 Launched in a campus-gym inspired event held at Robinsons Place Novaliches in Quezon City the campaign had kids and their families celebrate wellness by testing their physical and mental skills as they played dodgeball, Kinect Sports, arcade basketball, giant board game, and giant sungka for a chance to win instant prizes.
Robinsons Supermarket's Fit Kids: Back-to-School Promo will run from May 1 to June 30, 2018. During this period, customers will get a P100 discount coupon when they purchase Php3,000 worth of grocery items, inclusive of Php350 worth of participating products from  Nestle, Wyeth Nutrition, Mead Johnson Nutrition, CDO Foodsphere, Inc., and Purefoods-Hormel.
The Fit Kids: Back-to-School Promo also aims to help schools prepare for another exciting year. Customers who purchase Php350 worth of participating products will get an e-voucher which they can use to vote for a school who will receive a set of prizes at the end of the promo.
Each e-voucher is equivalent to 1 vote and votes garnered by the schools will be converted into their choice of prizes which include drum & lyre showcase, musical instruments, basketball and volleyball equipment, computer showcase, school armchairs, kitchen showcase, and sports clinic. Voting can be done at Robinsons Supermarket's official website.
The partner schools include Alabang Elementary School, Balingasa Elementary School, Dela Paz Elementary School, Manggahan Highschool, Manuel A. Roxas Highschool and St. James Academy. Students from these schools were also present at the kick-off event for a mini-Olympics to determine the "Fittest Kid". Winners took home prizes from Robinsons Supermarket and their partners.
Find out more about Robinsons Supermarket's wellness campaign and other activities at their official website at www.robinsons-supermarket.com.ph or like their Facebook page.