Several months ago, I blogged our review of the BioCair BioActive Anti-HFMD Disinfectant Pocket Spray. While we are thankfully over the kids' bout of hand-foot-and-mouth disease, we are still very vigilant about keeping bacteria and viruses at bay. So, it's good that we were able to try the regular version, which is the BioCair Disinfectant Pocket Spray.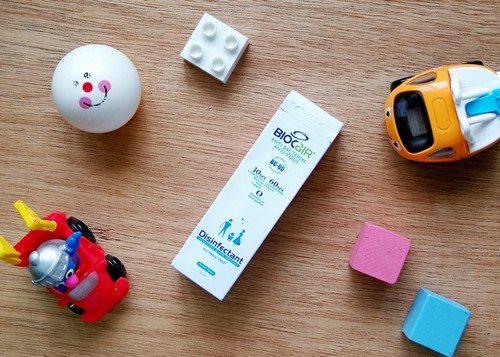 Just like the Anti-HFMD version, we love this product. Let me tell you the five reasons why.
1. It's non-toxic.
A lot of healthcare products in the market these days are effective but use harmful ingredients. BioCair Disinfectant Pocket Spray is not like that at all. In fact, it is a non-toxic, non-alcohol, and non-corrosive disinfectant made with only pure water and BC-65. BC-65 is a non-alcohol, non-toxic formulation that works by destroying the cell wall of the pathogen. Because it's non-toxic, it's also eco-friendly!
2. It kills bacteria and viruses.
There's danger lurking around our kids and we can't even see them. I'm talking about harmful bacteria and viruses that can make them sick. That thought is enough to make me paranoid. But using this product kills 99.999% bacteria and viruses under 60s, including yeast, fungus, bacteria, and viruses. Now, we moms can rest easy knowing that we're doing our part in banishing these things from harming our kids.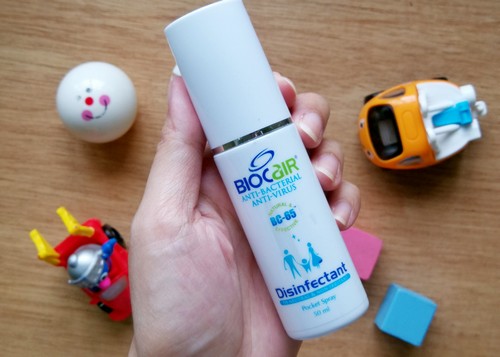 3. It's child-friendly.
If you're a mom, especially to a toddler like my youngest, you'd know that they like to get their hands on anything and everything, including cleaning tools. That can be very dangerous. So, it's good to know that BioCair Disinfectant Pocket Spray has a child-friendly formula, is pH Neutral and suitable for sensitive skin too.
4. It's handy.
The spray bottle is smaller than my hand. That said, I have no problems holding it. Plus, it fits nicely in the toiletry bag that I always have in my handbag whenever I go out. You can bring this everywhere with you. This is great because I already have so many other things in my Mommy bag and don't want to add any more bulky things in it.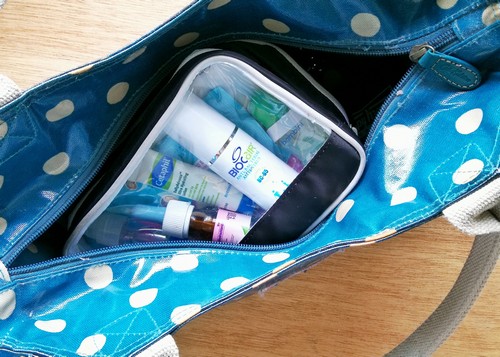 5. It's easy to use.
To use, simply hold the bottle 4 – 6 inches away from the surface, then spray. No need to rinse after spraying. That's it! You're done! You can use it to disinfect just about anything too, from toilet seat covers, door knobs, mobile phones, keyboards, kitchen surfaces, and even chopping boards. Personally, since I bring it with me in my bag, I use it to disinfect high chairs whenever we eat at restaurants and on the handles of grocery shopping carts too (because you never know who used those before you, right?).
The BioCair Disinfectant Pocket Spray retails for Php 600 only. You can buy them from Mothercare branches or from MilkandHoney.Ph. To learn more, visit the BioCair website. You can also follow the distributor, Koofty Enterprise, on Facebook and Instagram.
The Giveaway!!!
Now on to the exciting part. BioCair Philippines is generously sponsoring two (2) bottles of the BioCair Disinfectant Pocket Spray for this giveaway. Yay!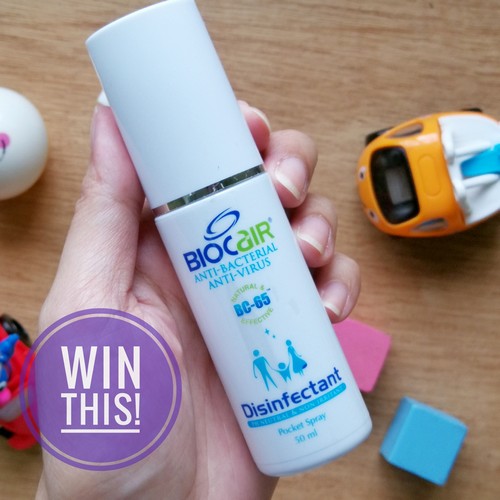 Read the full mechanics below.
1) There will be two giveaways – 1 on the Mommy Plannerista Facebook page and 1 on the Mommy Plannerista Instagram account. Participants can join once on each of the giveaways, giving them a maximum of two entries.
2) To join on Facebook:
– Must like Mommy Plannerista on Facebook.
-Like the giveaway post.
– Comment below the giveaway post and tell me how you keep bacteria and viruses away from your family.
– With your comment, tag three (3) of your friends.
To join the Instagram post:
– Must follow MommyPlannerista.blog and Koofty Enterprise on Instagram.
– Like the giveaway post.
– Comment below the giveaway post and tell me how you keep bacteria and viruses away from your family.
– With your comment, tag three (3) of your friends.
3) One winner will be drawn on Facebook and one on Instagram. Participants can only win once. If a person's name is drawn twice, I will draw another one. Winners must be willing to provide their full names, email, mailing address, and contact numbers to facilitate delivery of the prizes.
4) Winner will be drawn via Random.org.
5) Participants must use their personal Facebook and/or Instagram accounts only.
6) This giveaway is open to Philippine residents only with valid Philippine address.
7) BioCair Philippines / Koofty Enterprises will be in charge of delivering the prizes to the winners.
8) This giveaway will be open from June 12 – 18, 2018. Winners will be drawn no later than a week after. Winners will be announced (and will be tagged) on both Facebook and/or Instagram.
9) This giveaway is in no way affiliated with Facebook or Instagram.
Go ahead and join now! Good luck!